Employee of the Quarter: Lisa Knauf Owen
Lisa Knauf Owen, OCC assistant director, was named employee of the quarter at the January 7, 2015 meeting of the Conservation Commission.
An excerpt from her nomination reads: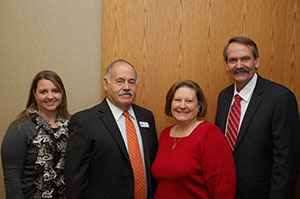 "When the call for help comes, this person puts on a super hero cape, drops into the district office and uses super powers to fix the problem."
Lisa has served with OCC for over 20 years beginning in 1994 as education coordinator and later as wetlands coordinator. She was named District Services division director in 2000 where she worked as liaison to conservation district boards and employees in an effort to enhance their capabilities and services.
Following Mike Thralls' retirement, Lisa assumed the position of interim executive director. "She provided real leadership during highly uncertain circumstances. She successfully guided OCC staff and Commissioners during the search for the new executive director," reads her nomination.
Lisa currently serves as the agencies assistant director and District Services division director. Thank you for your hard work and leadership, Lisa. Congratulations!