Employee of the Quarter: Kim Shaw
Kim Shaw, OCC/WQ Blue Thumb quality assurance officer, was recognized at the March 2013 Commission meeting for being named Employee of the Quarter.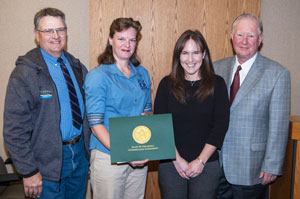 Kim came to work for OCC in January 2003 and spent her first two years as a water quality specialist in OCC's Water Quality division. Then became the education coordinator for the WQ division's Blue Thumb Program. With Blue Thumb, Kim has done everything from field collections, to natural resource days with children, to teaching volunteers how to test water. Kim loves being outdoors especially in streams, and she loves spending time with Blue Thumb volunteers, so her job has been a really good fit.
More recently Kim was promoted to quality assurance office for the Blue Thumb Program which calls for more time indoors than her previous positions, and also more travel and some evening and weekend hours as well, but she is doing a "super job" at it according to Cheryl Cheadle, Blue Thumb Program coordinator. With funding cuts to the Blue Thumb Program and staff changes, Kim has been left with a lot of work to accomplish while also learning her new position.
Kim travels throughout central and western Oklahoma to work with stream monitor volunteers. Helping them to monitor accurately and keeping all collections up to date is a large job, and Kim has been responsible for more than 50 stream teams, meaning that she is constantly moving throughout Blue Thumb territory to accomplish collections, offer quality assurance sessions, supply volunteers with new reagents, and provide additional support the volunteers need.  In addition, Kim has worked this year with close to 1,000 elementary-age students at natural resource days. In this capacity, Kim has helped children learn to appreciate streams and rivers, and realize that they can have an impact on water bodies.
Most recently, Kim has made a commitment to Blue Thumb volunteers through her activities with a brand new Blue Thumb steering committee. The committee of volunteers is setting the stage to create a new Blue Thumb foundation. Kim is providing great leadership to this group.
"Kim has shown great willingness to step in and get the job done when it seemed quite overwhelming," the nomination form stated.