Employee of the Quarter: Kim Shaw
Kim Shaw, the Blue Thumb Quality Assurance Officer, recently found an opportunity to work with GIS staff member Shelly Willoughby to create a cell phone app for the purpose of making data entry by the volunteers easier, faster, and "more along the lines of how younger volunteers respond to everything." Yet Kim has been reassuring that "the old way" of submitting data will not be abandoned. Not only will this tool allow volunteers to quickly and easily turn in data, it will allow for volunteers and the general public to access this data visualize it with the use of maps the graphs. This will no doubt have a positive effect on the volunteer experience and increase exposure of Blue Thumb and the Oklahoma Conservation Commission.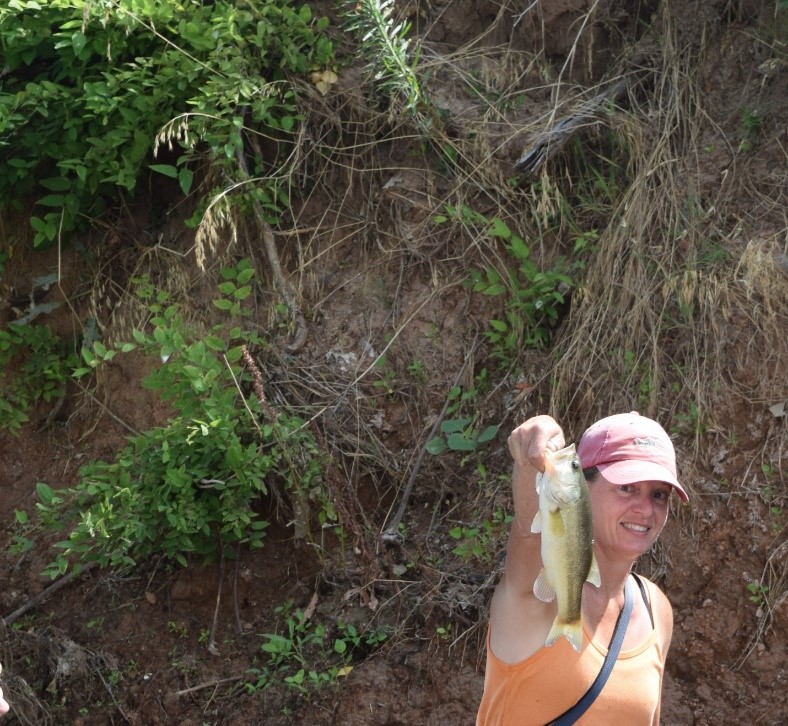 Over the course of the summer, Kim took the lead role in helping to get NRCS Pathways enrollees working with Blue Thumb on fish collections as much as possible. These college students are working with and learning about NRCS and partners before they begin a career with USDA. The COVID-19 Virus changed the way that Blue Thumb was going to be able to work with the students, so Kim pushed to get the Pathways students in the field where it is much safer to work together. There is no "lecture" series that comes close to teaching what can be learned in the total biological "submersion" of a fish collection!
Kim has easily moved into the role of virtual teaching and creating videos. When it was made known to Kim that there was a backlog of benthic macroinvertebrate that needed subsampling, she rolled up her sleeves and got the job done!
Kim's many outstanding characteristics include being; Self-directed; Punctual/never misses a deadline; Passionate about her career; Honest and hardworking; Organized and punctual, and she is dedicated to the work of Blue Thumb and the Oklahoma Conservation Commission.
She contributes so many things to the agency, community and the state of Oklahoma, including: Writing informative, enjoyable articles for the volunteer newsletter; setting an excellent example for accomplishing field world; serving as a precise, clear educator when teaching new volunteers; working with districts to provide groundwater screenings; working with the Blue Thumb volunteers in southeastern Oklahoma to monitor water quality, and in serving as the Quality Assurance Officer for the Blue Thumb program, she ensures all volunteer data passes the high standards set by the program so it can be used by volunteers, agency staff and the general public to access water quality.
Congratulations, Kim!