Employee of the Quarter: Kevin Gustavson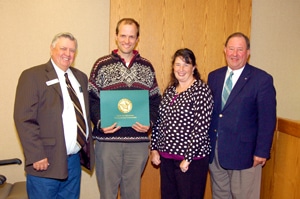 Kevin Gustavson, OCC/WQ Blue Thumb low impact development educator, was recognized at the December 2010 Commission meeting for being named Employee of the Quarter at the October OCC Full Staff Meeting.
Kevin has been with OCC for five years. His duties include watershed planning, environmental education and outreach. His specialties include low impact development design and urban best management practices such as rain gardens. In the past year Kevin was featured on the OETA Oklahoma Gardening television program explaining how the rain garden at his own home functions to reduce pollution in runoff.
Kevin serves on several committees and is participating with the Indian Nations Council of Governments on a Rain Garden-Pollution Reduction urban education program. Kevin continues to work with the Grand Lake Watershed Alliance Foundation, and he promotes the Honey Creek Demonstration Farm by bringing people there for tours. Kevin works with children through Natural Resource Days, and recently helped with the "Juniors Acquiring Knowledge, Skills, and Ethics" class in the Honey Creek watershed and was featured in the Tulsa World newspaper. Kevin was a guest speaker at the Soil and Water Conservation Society's National Meeting in Kansas City in 2009.
"Kevin puts together and delivers educational presentations that are excellent," said Shanon Phillips, OCC/WQ director. "He uses examples from how he lives to help people understand the value of making choices that are good for the earth."