Employee of the Quarter: Judith Wilkins
Managing projects across the state and forging crucial partnerships with local officials, Judith Wilkins, Water Quality Division environmental projects and administrative coordinator, keeps the work of water quality and conservation moving forward. She is more than deserving of the distinction, Employee of the Quarter.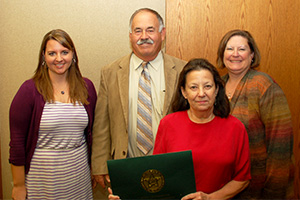 Judith was recognized before the five conservation Commissioners on October 6, 2014. Karla Spinner, Awards and Recognition Committee chair, read the award nomination:
"Judith's position is one that is primarily needed to maintain the framework that keeps the Water Quality Division moving forward. She works with staff members to ensure that work being completed among the Division's various programs is documented…This is a BIG job…
Judith also works on projects like the Lake Thunderbird Project where she attends meetings, coordinates seminars, workshops, and tours, and keeps information flowing to the public…
Judith deserves to be employee of the quarter because she maintains a positive outlook, works hard, and has a big impact on the Water Quality Division. Judith is a team player and we need more people like her!"
Thank you, Judith, for all your hard work. Congratulations!