Employee of the Quarter: Johnny Pelley
Johnny Pelley, OCC Conservation Programs watershed technician, was recognized at the January 2013 meeting of the Oklahoma Conservation Commission for being named as Employee of the Quarter at the December 2012 OCC Full Staff Meeting. He had received a 25-year service award at the December Commission meeting.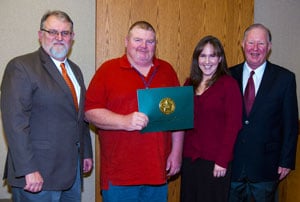 Johnny began his career in conservation as an employee of Grady County Conservation District. With 153 structures, Grady County leads the state with the most small watershed flood control dams. The experience and expertise Johnny gained in the operation and maintenance (O&M) of the dams led to his selection as one of the first watershed technicians for the Oklahoma Conservation Commission, a pioneering position unique to Oklahoma and not found in any other state to date.
Johnny provides technical support to 23 conservation districts to assist with the O&M of more than 700 watershed structures. He assists those districts with inspections, diagnosis of O&M issues needing attention, recommendations for resolving problems, and participates in performing the necessary work. Johnny Responds to emergencies involving watershed structures and assists districts to mitigate damages. He is responsible for operating, maintaining and supervising the operation and maintenance of equipment valued at nearly half a million dollars. He co-supervises two watershed aide positions in collaboration with their respective conservation district boards of directors.
"MacGyver" is a nickname given to him by his colleagues for his creativity in resolving mechanical challenges, according to Robert Toole, OCC Conservation Programs director. He has built numerous "one-of-a-kind" mechanical devices to solve a problem or address a need. He is known as a master welder and is the agency "go-to" guy if you need a unique ironwork created or repaired, Toole said.
"Johnny is a team player and contributes as a team member to the Conservation Programs division team, the watershed technician team, the watershed aide team, and the dam safety incident management team," Toole said.