Employee of the Quarter: Jeri Fleming
Jeri Fleming, Water Quality Division Environmental Programs Manager, was recognized as Employee of the Quarter at the April 4, 2016 Oklahoma Conservation Commission meeting: Her nomination reads: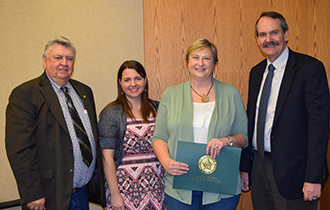 "Jeri is the first person to be in the position of Communications Coordinator for Blue Thumb. While still being sort of new (she came aboard in 2013) Jeri:
Has totally revamped the Blue Thumb website to be readable, informative, and effective as a real communications tool
Keeps the Blue Thumb Facebook page updated, fun, and interesting
Submits news releases about Blue Thumb activities to local media -even pushing them to get out with us on-site for coverage
Works with principal staff for exciting events like the 2015 "legislative field days" which were Jeri's idea
Travels with and educates with Blue Thumb's new stream trailer and
Put together a summer camp for kids in conjunction with the Grand River Dam Authority
Manages the Stillwater Blue Thumb volunteer group
Puts her education (attorney) to work to offer "a different view" where it is needed
Monitors Spring Creek in Mayes County with a group of elementary age volunteers
"Currently Jeri is planning summer camps in conjunction with the Grand River Dam Authority. Working with Kim Shaw, she has just added a series of instructional videos to the Blue Thumb web site. Jeri is willing to change her schedule to help staff members in need, as was evidenced by her taking on the duties of representing the Water Quality Division at the Governor's Water Conference this fall. She is a true source of advice and suggestions to leadership not only within the Water Quality Division, but the Oklahoma Conservation Commission as well.
"Jeri has helped the Blue Thumb Program reach new audiences and more people. She has great energy and is very motivated. It is hard for me to imagine a more deserving person to be employee of the quarter!"