Employee of the Quarter: Jean Lemmon
Jean Lemmon, quality assurance officer for OCC's Water Quality Blue Thumb Program, was recognized as Employee of the Quarter at the October Commission Meeting. Her selection was announced at the OCC full staff meeting in September.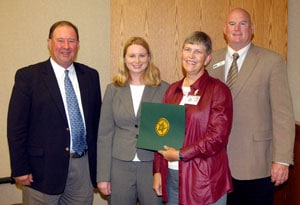 In her position as quality assurance officer Jean is responsible for overseeing the quality of volunteer-collected water monitoring data and implementing quality control and assurance programs for collection. In addition she leads new volunteer training and quality assurance sessions and gives presentations to conservation districts, cities and school groups to educate them about clean water and how to improve water quality. She also facilitates analysis and reporting by volunteer groups of streams they monitor.
Jean began her association with OCC as a volunteer with the fledging Blue Thumb Program in its early days. Her enthusiasm led to first part-time and then full-time employment. She plays the principal role in putting together the popular Blue Thumb Calendar, recently completing the third edition.
"Jean Lemmon is a portrait of dedication, inspiration and work ethic and deserves to be recognized as Employee of the Quarter," her nomination read.