Employee of the Quarter: Jean Lemmon
Jean Lemmon, Water Quality Division Technical Writer, was recognized as Employee of the Quarter at the December 9, 2015 Oklahoma Conservation Commission full staff meeting held at the Arcadia Lake Conservation Education Center. Her nomination reads: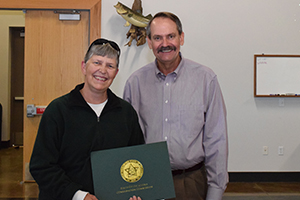 "This employee changed staff positions within the Division three years ago. After years of clambering down and through creek beds to educate Oklahomans on the importance of stream health. She now serves as a technical writer, executing detailed, heavily analytical reports required by grant funding. As three of these multi-million dollar grants come to an end December 31, 2015, and following the departure of the senior technical writer, it has fallen to this individual to do all the research, calculations, chart rendering, and report writing in a very compressed amount of time for these three projects, plus two other major end of year reports that are required annually.
"As if this alone was not overwhelming, this individual has not only taken on a wholly new type of project geared toward empowering local communities, but has taken this new project and run with it. This girl is on fire! The new project is a Tulsa city-wide concentrated focus on an urban watershed. Following the kick-off event that she engineered, she created committees to oversee the environmentally friendly landscaping of a 3-lot plot of land and one for education outreach. At least once a week during lunch, evenings or weekends, she is meeting with a committee, staffing an exhibit, or addressing a community group.
"All these jobs have been shouldered by this person without an increase in salary, and with a positive, can-do attitude. On top of all this she is the nicest person to be around and never hesitates to pitch in when needed for a variety of other work related chores."
Congratulations, Jean. Way to earn it!