Employee of the Quarter: Janet Stewart
Janet Stewart, OCC general counsel, was recognized as Employee of the Quarter during the April 6, 2015 meeting of the Conservation Commission.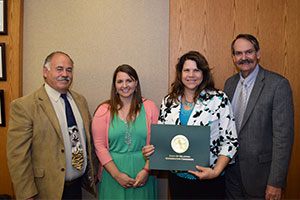 As general counsel, Janet assists the agency and conservation districts with real property, state and federal laws, legal research, litigation, and contracts and agreements. Of course, she's frequently known to provide assistance well beyond the bounds of her job description.
An excerpt from her nomination reads:
"Janet's customer service is exemplary, her team work is excellent, her problem solving is commendable and her leadership skills are advanced. Janet is deserving of recognition as Employee of the Quarter."
We couldn't do it without you, Janet. Congratulations!