Employee of the Quarter: Greg Kloxin
Greg Kloxin, Water Quality Division Assistant Director, was recognized as Employee of the Quarter at the June full staff meeting and the July 11, 2016 Oklahoma Conservation Commission meeting. His nomination read: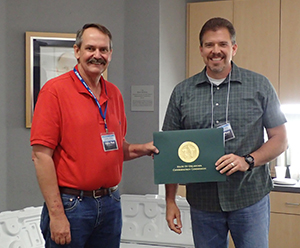 "Greg has played a vital role in the Water Quality Division, especially in the last couple of years. As Assistant Director of the division, he has ensured that Oklahoma's non point source management program has become stronger than ever. Thanks to Greg's competence in tracking and reporting best management practice implementation, Oklahoma is first in the nation in nutrient reductions. Oklahoma has ranked second in the nation for nonpoint source success stories, a duty under Greg's supervision, for several years in a row. Under Greg's watch, tasks are completed on time and are high quality. Greg is responsible for drafting most of the division's workplans, a tedious but very important job, and he has been able to stretch dollars so that the most environmental good is achieved and the overhead remains low.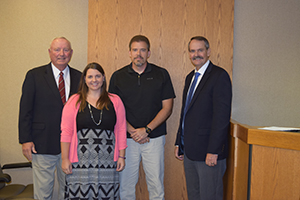 Greg is dependable and full of integrity. He strives for excellence and is always professional. He goes out of his way to make his coworkers feel like they matter, that they are important and part of the team, regardless of their position. Greg has been an integral part of the national success of Oklahoma's nonpoint source management program and is a driving force behind the unity and strong teamwork of the division. He is an exemplary employee and deserves to be recognized as employee of the quarter."