Employee of the Quarter: Gina Levesque
Every great once in a while (every year, to be exact), a person is chosen based on their diligence, hard work, and commitment for the Oklahoma Conservation Commission. That person is designated as our avatar, our model representing all that we as a staff aspire to be. That person is our employee of the year. That person is Gina Levesque.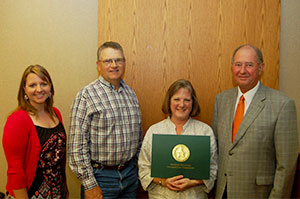 Gina is the type of person who's "willing to go the extra mile" as her nomination read. In addition to managing the Conservation Reserve Enhancement Program (CREP), she took on a leadership role on the Illinois River Stream Restoration Project. By working with landowners and the Corps of Engineers, overseeing construction, and even serving a home-cooked meal to an out-of-state crew, Gina saw to it that the job not only got done, but got done right.
In conjunction with the restoration project, Gina also organized volunteers to plant over 10,000 donated trees she had secured. The trees were strategically planted in stream bank areas that were vulnerable to erosion. Not done planting, Gina worked with the Cherokee Nation Foundation and the city of Tahlequah to plant several culturally significant trees in the area along with appropriate descriptive signs.
Gina continues to do incredible work for the Commission, Oklahoma, and the cause of conservation. Thank you Gina, and congratulations!