Employee of the Quarter: Clancy Green
Greater versatility and a harder work ethic would be extremely hard to fine than those of Clancy Green.
Clancy, the OCC District Services Coordinator, contributed in so many ways to all five Area Meetings, and the State OACD Meeting.
She has an ability to anticipate what job/tasks needs to be done and a willingness to tackle any project/problem. She is always willing to jump in to assist, and her "can do" attitude is refreshing and appreciated.
Clancy is an excellent representative of Field Services and OCC overall at district board meetings. She is skilled at trouble-shooting district problems on her own while also providing training and trusted knowledge. Clancy provides Oklahoma's 84 Districts assistance in answering questions, training, taxes, payroll, board visits, PO balances/issues, etc.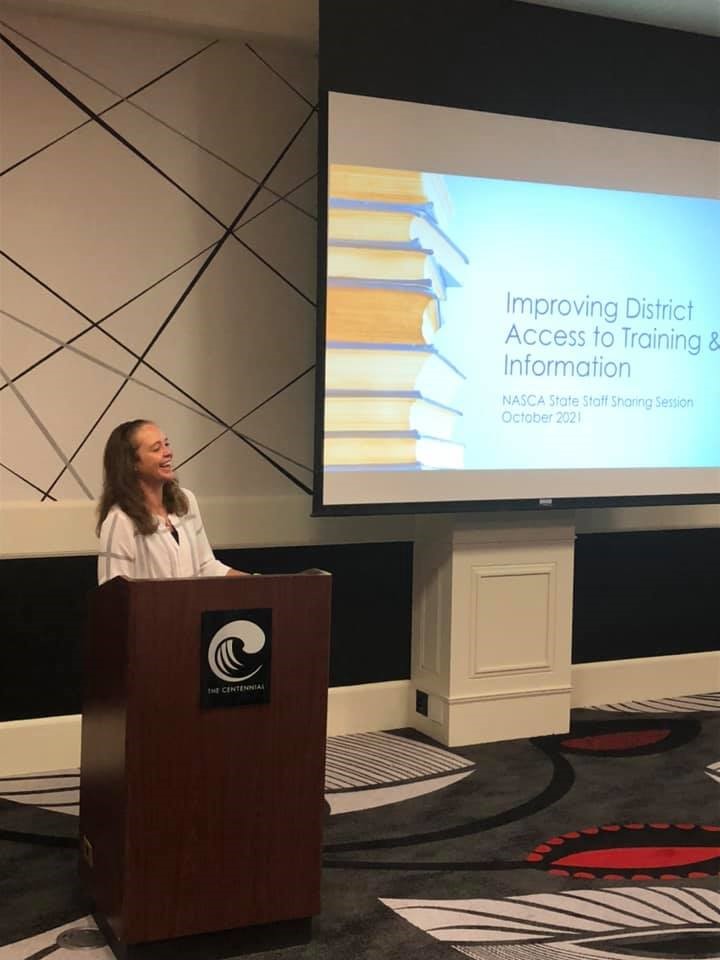 She handles website tasks, updating the OCC website as needed, and she works with the Communications Director and the rest of the team in moving forward on a new look/overall update.
Clancy processes pre-claims, cost share claims, and reimbursement claims as needed.
She tracks and balances funds, handles the Director election/appointment processes and tracking, and updates and sends director binders. Clancy also provides Cost Share assistance with/for Tammy as needed/asked and she helps Trey, Lisa, and Tammy with whatever is needed/asked (For example: scheduling travel, legislative visits, helping with meetings, etc.).
She works with Communications Director on the Communications Committee and helps with social media and other others as needed/asked. She is contributor to and a talented designer of the newsletter, The Ripple Effect.
Her contributions also include Database administration/data maintenance (i.e. building out a new director database and keeping a current directory as up-to-date as possible). She files claims and preclaims, sorts mail, answer phones, etc. Clancy also handles purchasing as asked and works diligently to understand all the coding/funding/rules/policies.
Clancy, a native of the Oklahoma Panhandle, is a very dedicated member of the OCC staff. Three of her outstanding characteristics are, she is dependable, knowledgeable and caring. Her many contributions to the Agency, include: a team attitude in completing a task, a willingness to help and also a willingness to try/learn. Plus, she encourages co-workers daily.
Congratulations, Clancy!