Employee of the quarter: Candice Miller
Candice Miller, Water Quality Division Blue Thumb Program Education Coordinator, was recognized as Employee of the Quarter at the July 9, 2015 meeting of the Oklahoma Conservation Commission.
Her nomination read: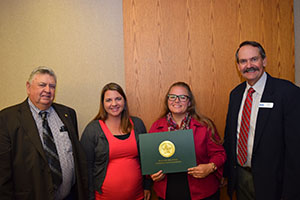 "Candice manages the Blue Thumb areas of Johnston, Murray and Pontotoc Counties, and has partial responsibility for Tulsa, McCurtain, Latimer, Pushmataha and Leflore Counties. Candice spends a great deal of time educating citizens with presentations or in the field. She pulls together all equipment for Blue Thumb trainings and puts together the annual Blue Thumb calendar.
"In addition to the duties above, Candice has put together a beautiful and educational publication, the "Volunteer's Field Guide to the Stream Fish of Oklahoma." Printed on water and tear resistant paper, this guide is based on the fish actually captured in Blue Thumb fish collections. To get this publication completed, Candice worked not only with her Blue Thumb co-workers, but with our water quality specialists, GIS specialist, and members of the Oklahoma Department of Wildlife Conservation. Volunteers have complimented the publication over and over.
"In addition to completing this document, Candice has shown steady growth in her position with Blue Thumb. Whether she is working with children at a stream, demonstrating pollution prevention with a watershed model, or teaching new volunteers how to test water quality, Candice is concise and easy to follow. The range of duties Candice has ranges from cleaning out the storage unit, attending fish school, working with volunteers to make field collections and preparing new publications. She is a person who genuinely cares about protecting streams and rivers, and the Blue Thumb Program is lucky to have her on board!"
Congratulations, Candice!