Employee of the Quarter: Candice Miller
Enthusiasm and smiles are never in short supply for Candice Miller.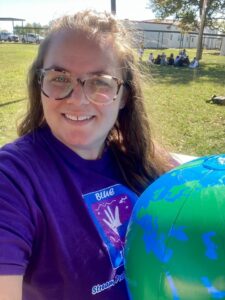 The Project WET Education Coordinator has had many accomplishments at OCC and this quarter is a great example.
She served as one of the primary planners of the H2Oklahoma Event held at Keystone Lake State Park. On that day, students from Creek County and beyond had the opportunity to learn about local fish, the water cycle, collecting water samples, pollution prevention, ecoregions, dealing with oil spills and much more.
Candice worked weekends with additional Blue Thumb staff to train new volunteers. She also planned and executed volunteer Quality Assurance/Macroinvertebrate Subsampling on 18 different days.
Plus, Candice, devoted nine days to helping new volunteers locate and begin monitoring on their new sites.
She has been described as "Hard working, committed to the cause of stream and river protection and dependable." She is also, "Caring, focused and able."
Congratulations, Candice!