Employee of the Quarter: Bryan Painter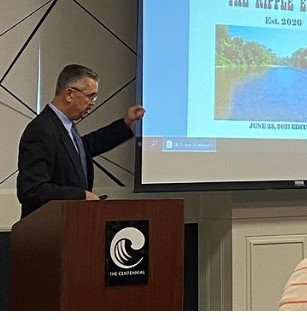 Bryan Painter, Communications Director, assisted by talented OCC Agency staff, strives to share the message of conservation, whether that is Conservation Districts, water quality, soil health, watershed program watershed programs, the Abandoned Mine Land Program or others.
During the Covid-19 OCC staff members had rules for work so that social distancing and other safety measures were the priority. This means that many people worked from home. The information Bryan provided was helpful.
He is seen as Dependable, a good communicator and a creative thinker. Bryan enjoys working with Districts Services Coordinator Clancy Green, who not only designs the newsletter, The Ripple Effect, but writes and edits as well.
Bryan is seen as approachable and he communicates in a down to earth manner.
Congratulations, Bryan!