Employee of the Quarter and Service Award: Debi Carnott, 25 Years
Debi Carnott, OCC/WQ North Canadian River Project education coordinator and conservation plan writer, was recognized at the June 2013 Conservation Commission meeting for being named Employee of the Quarter and for 25 years of service.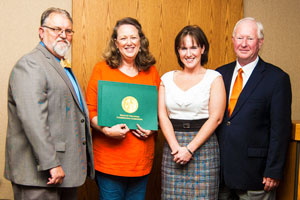 Debi joined OCC's Water Quality division in 2008 after working at the Central North Canadian River Conservation District for 20 years. Even while working at the district, she helped coordinate with other districts to address a need for a project that became the North Canadian River Water Quality Implementation project. The U.S. Environmental Protection Agency funded the project, it was natural to bring Debi into work with Monty Ramming, project coordinator, according to Shanon Phillips, OCC/WQ director.
In her role with the project, Debi speaks to students and teachers at schools, provides information to news media, and hosting tours and public meetings to inform local people about the program.She also writes conservation plans and helps Monty maintain the project data. Debi and Monty list fencing cattle from riparian areas and helping landowners implement no-till farming as two of the project's greatest successes. She also helped implement a demonstration farm to show producers the benefits of no-till farming. She also helped coordinate the "River Runs Through It" tour for teachers from Bethany to Beaver and Quality Urban Streams workshops to help municipal staff and other interested entities better understand caring for streams in populated settings.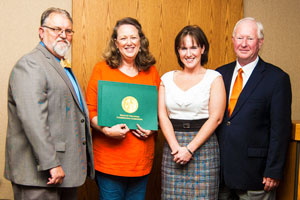 Debi has two sons and a daughter and three grandsons and two granddaughters. She makes her home in Calumet and continues to farm family land with her sons.