Dr. Katie Blunk: Maintaining the path to sound conservation practices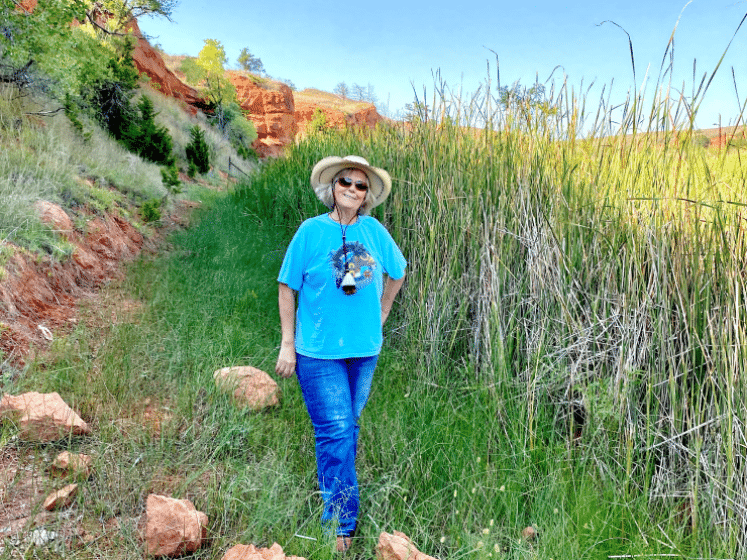 "BLUE THUMB CALENDAR 2021 FEATURED PRODUCERS FOR AUGUST."
FREEDOM, Okla. –– Parents clearing paths for their children isn't uncommon.
However, what makes this story special is that Dr. Katie Blunk says the path her mother Rose Blunk cleared for her — and the land — was thick with cedars. Many Oklahomans can close their eyes envision that scene or look through their windshield and see it.
Blunk's ties to conservation run generations deep, and are bound with strong praise for her grandparents and parents, and her husband. Still, she focuses in on the actions of her mother.
After the passing of Katie's father, Rose was thrust head-on into managing the family lands between Kansas and Oklahoma, and was overwhelmed with the level of invasive Eastern Red Cedars she discovered on the Oklahoma ranch.
Katie's trail blazing mother shouldered into the daunting task of cutting cedars and the uncharted territory of implementing prescribed fire on the ranch, with the financial and technical assistance of the local USDA-NRCS office.
Over the next decade, Rose eventually began to see her way out of the cedar forest, and her perseverance and dedication to being a good land steward paved the way home for Katie and Michael.
LOOKING BACK/WORKING FORWARD…
Dr. Katie Blunk was born in rural northwest Oklahoma in the town of Alva, Oklahoma, located in Woods County. Raised on the Kansas portion of the Blunk family farm and ranch operation located northwest of Hardtner, Kansas, Blunk obtained her Doctor of Veterinary Medicine degree from Kansas State University in 1980.
Her veterinary career took her to Reno, Nevada as a field veterinarian for USDA-APHIS-Veterinary Services. In 2012, after 31 years of service, she retired from veterinary medicine and relocated back to her family roots in Oklahoma. This move took her to the Oklahoma portion of the family's ranch that is located northwest of Freedom, which is now called the Lazy KT Ranch.
Katie Blunk and Michael Horntvedt exchanged their wedding vows during a horseback wedding ceremony in 2009, on one of her favorite spots on their Oklahoma ranch; this special spot is known as Jackass Ridge. This "special location" has its own entertaining history as reflected by its name, which is a whole other humorous story that does involve real donkeys. This spot on the ranch ultimately led to the new county road designation winding into their ranch, with the road now officially named "Jackass Ridge Road."
Their ranch is nestled in open range country in the Red Hills of Oklahoma. The Lazy KT Ranch boasts beautiful landscapes laced with ruggedly scenic red canyons and cliffs, native prairie, wildflowers, and creeks.
Blunk calls it, "A true cowboy's dream."
This Oklahoma cattle ranch bears fond memories from Blunk's childhood days, where she spent summer days of her youth visiting her Grandfather Blunk. She fondly recalls that "Riding horses on Grandpa's cattle ranch and picking wildflower bouquets were among some of my favorite things."
Her childhood no doubt greatly influenced both her lifelong love of the land, horses, cattle, plus her career choice as a veterinarian. Now, she has come full circle back to ranching.
In addition to being good land stewards, Katie and Michael's teamwork has built a successful cow-calf and seedstock operation.
The couple pride themselves in their Black Angus cattle operation that focuses on genetics that represent years of discipline and a commitment to produce livestock that will perform well in their environment, are economically sustainable, and create the ultimate consumer dining experience.
"Plus, we incorporate our cattle as a grazing tool to aide us with our range land restoration goals, trying to mimic the days of buffalo roaming the prairies laced with nature's wildfires that reinvigorated soil health and native grasses on the prairies from the combination of fire and grazing," Katie Blunk said.
STRONG TIES TO CONSERVATION…
Both Katie and Michael were raised with farm and ranch backgrounds which instilled a strong work ethic in them, and the notion to try and leave things better than how you found them. Coupled with these values from their upbringing was an inherent love for the land, nature and the greater outdoors.
Blunk recalls many tales from her grandparents who endured the Dust Bowl era and stories about the hardships and conservation programs that evolved subsequent to that devastating period in agriculture's history.
She also reflects on childhood memories of how her father worked hard to capture precious water resources by building ponds, and battled erosion by building terraces in his red dirt fields.
However, again, the person she credits with the most influence on her current day involvement with conservation is her mother, Rose Blunk. What she did, cleared the way for what was to come.
In 2012, Katie and Michael began the next chapter of their lives building their home and cattle headquarters on this Northwest Oklahoma ranch. Rose had ''cleared the cedar path'' both literally and figuratively.
Katie and Michael picked up the reins to carry onward with Rose's range land restoration efforts. Their hard work on the ranch continues to please their matriarch in whose footsteps they have followed, Rose Blunk.
Living on the ranch today for Katie has evolved from childhood memories to an everyday reality.
"We are ready to roll on a moment's notice to help our neighbors with a prescribed burn, and likewise are greatly appreciative of the help we receive as well," Blunk said. "Managing the ranch has become a story of collaboration for us. It's a story of neighbors helping neighbors to apply prescribed fire to the lands to improve the rangelands, enhance grazing for livestock and wildlife, protect water resources, invigorate wildlife populations including prairie chickens, quail, and wild turkeys, promote nectaring habitats for the Monarch butterflies and other pollinators, and to reduce the future impacts of wildfires."
When Blunk returned to Oklahoma in 2012, she became involved with the local prescribed burn association that her mother had been a part of, which was comprised of over 50 local ranchers.
"Getting good fires on the lands soon became a passion for me," she said. "I have volunteered my time to educate the public with speaking engagements, social media, and I serve as President of the local prescribed burn association called the Cimarron Range Preservation Association. I cannot say enough good things about the great satisfaction I get from returning to my roots and being a part of this amazing culture in rural America where neighbors help neighbors to achieve common goals of restoring the prairies."
Blunk emphasizes that on their ranch, they are committed to ongoing land stewardship that incorporates multiple conservation practices.
Some examples are utilizing rotational grazing, patch prescribed burning to drive intensive grazing, continual cutting of Eastern Red Cedars, application of prescribed fire to different burn units on the ranch every year, fencing off sensitive riparian areas, revitalizing springs, maintaining ponds, developing solar powered water wells, mulching dead cedar skeletons, and ongoing monitoring for appropriate forage levels and adjusting accordingly the appropriate stocking rates.
She maintains that "prescribed fire is the best and most economical tool in the battle against the invasive Eastern Red Cedar", and it is clearly a tool that she is passionate about.
Blunk has seen many benefits come from applying good fires to the land, coupled with a good livestock grazing plan, noting that grazing and good fires go hand in hand to restore the prairies for generations to come. The results are tremendous. Wildflowers abound, milkweed returns, and the native range bursts with a mosaic diversity of plant species and native grasses. Soil health improves, water and air quality are better, wildlife and cattle flourish, happy grazers and butterflies coexist, while the prairies reap the benefits of being good land stewards for generations to come.
However, there's even more to Blunk's conservation story. After encountering Okies for Monarchs at the state meeting hosted by the Oklahoma Association of Conservation Districts, she became a huge advocate for them.
Fun, collaborative relationships sprung forth from her Okies for Monarchs introduction, that led to her being featured by The Oklahoma Nature Conservancy in their Spring 2020 Oklahoma Impact Report about using prescribed fire on their ranch to benefit the Monarchs. The Oklahoma Nature Conservancy also had Katie do a 'live Facebook takeover' in the month of May, 2020, featuring an actual prescribed burn, showcasing her ranch practices and discussing benefits of conservation practices on their ranch. The TNC wrapped up that month with an interactive webinar hosting Katie in her ranch setting, about sustainable ranching and the use of prescribed fire to help Monarchs on Oklahoma Rangelands.
Blunk was also featured in a short documentary that The Oklahoma Nature Conservancy released in May 2020 from their filming on her ranch during the previous spring of 2019, with the crux being that agriculture producers like them are "on fire for the Monarchs."
INVOLVED AND RECOGNIZED…
Following in her mother's footsteps, Katie Blunk has continued partnerships on various projects and programs over the years with USDA-Natural Resource Conservation Service, Oklahoma Department of Wildlife Conservation, U.S. Fish and Wildlife Service, The Oklahoma Nature Conservancy, Okies for Monarchs, and the local Woods County Conservation District.
This led to Blunk being appointed to serve on the Board of the very active Woods County Conservation District (WCCD) for several years, recently in the role of Chairman. During her tenure, the WCCD has been awarded a REAP grant to procure a skid-steer with wildfire mitigation goals in mind, by cutting cedars and providing WCCD assistance for building firebreaks.
She is really "fired up" about this major accomplishment for their District that operates on limited funding allocations from the Oklahoma Conservation Commission. The WCCD generates locally raised funds from seed sales, equipment rental, cutting cedars, firebreak mowing and provides ongoing technical conservation guidance and cost share programs for local producers.
In addition to serving many years in the role of President of the Cimarron Range Preservation Association (the local prescribed burn association), she was recently elected to serve as a Board of Director for the Oklahoma Prescribed Burn Association.
"Good fires prevent bad fires," and "Take me to your cedar" are favorite mantras that emanate from her mouth when talking about prescribed fire.
She serves as a Trustee on the Comanche Pool Prairie Resource Foundation (CPPRF) based out of Coldwater, Kansas, which is a 501 C-3 organization dedicated to the regeneration and protection of natural resources to preserve range land ecosystems and enhance rural socioeconomics. Blunk said, "The CPPRF has leveraged just under $2 million in donations to assist producers with getting conservation practices on the ground by partnering with both State and Federal Wildlife counterparts that administer these programs."
Blunk received the USDA-Natural Resources Conservation Service 2018 Partnership Award for Outstanding Conservation District Director. That same year, she also received the 2018 Outstanding Service Non-Member Award from the Oklahoma Section of Society for Range Management.
MAINTAINING THE PATH…
In addition to all her other activities, Blunk has been a cooperating host to the USDA-NRCS for filming various recruitment and informational videos, or whatever they need for field days and trainings.
Blunk said, "It's all about partnership, neighbors helping neighbors to lend a helping hand to one another to make the world a better place… and to never let up on continually killing Eastern Red Cedars and stringing prescribed fire across the lands to restore our prairies."
Editor's Note: The Oklahoma Blue Thumb Calendar highlights important information about conservation, has a featured producer(s) in the months of February through October, and provides contact information for both Blue Thumb staff and Conservation Districts. Plus, this year's project includes an in-depth producer(s) feature story, such as the one following. If you would like a copy of the free 2021 Blue Thumb Calendar, please contact Blue Thumb Program Director Rebecca Bond at Rebecca.bond@conservation.ok.gov.