Double Creek Celebration Marked First Completed Rehab Project
The First Watershed Project in the Nation to have all the Dams Rehabilitated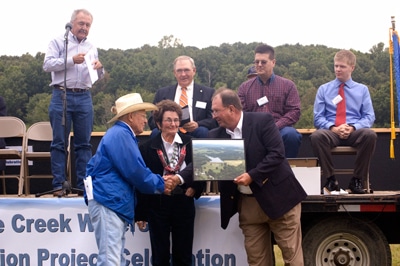 Over 200 people attended a celebration ceremony held Sept. 2, 2009, near Ochelata, Oklahoma, in Washington County to mark the completion of the rehabilitation of six upstream flood control dams in the Double Creek Watershed Project. It was the first USDA-assisted watershed project in the nation to have all the dams rehabilitated. Rehabilitation included raising the height of the dams, widening the earthen spillways and replacing the principal spillways (concrete inlet tower connected to spillway pipes in the dam).
George Stunkard, Area III Conservation Commissioner, emceed the event. Speakers included Lt. Governor Jari Askins; Tyler Laughlin, Field Representative for Congressman Frank Lucas; USDA Natural Resources Conservation Service Director of Engineering Noller Herbert; Oklahoma Secretary of Agriculture Terry Peach; Oklahoma Secretary of the Environment J. D. Strong; Oklahoma Association of Conservation Districts President Trey Lam; Landowner and former county commissioner Lee Chew; and Caney Valley Conservation District Chairman Kirk Darnell.
Lee Chew, former Washington County commissioner recalled during his high school days seeing runoff from flood-stage Double Creek wash cars off the road just north of where the football field sits in the town of Ramona today. Trey Lam commended the Caney Valley Conservation District for pioneering the watershed dam rehabilitation process in Oklahoma, stating the district had faced the full range of challenges present in that process, from gaining easements from landowners to changes in contractors during construction. State Sec. of Agriculture Terry Peach recognized the landowners on whose property the watershed dams are located as well as those on whose land water will stand on temporarily during flood stage. He presented landowners present with an aerial photo of the lake on their land recently taken by Mark Harrison, public information officer with the Oklahoma Conservation Commission.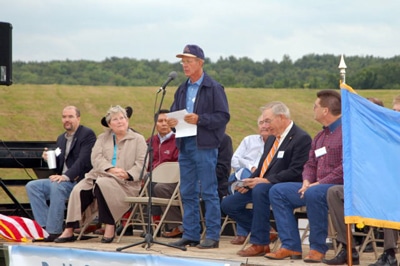 Lt. Governor Askins praised the cooperation between landowners, the Caney Valley Conservation District, the Natural Resources Conservation Service and others in getting this project completed. She also praised state legislators for supporting this and other rehabilitation projects by providing funding to help local project sponsors meet their 35 percent of the project costs.
"We are fortunate that Oklahoma had great conservation leaders in the '40s and '50s that helped us recover as a state and helped us keep other states from suffering some of the same damage that incurred during the 1930s," Askins said. "And because of those efforts it's no surprise to me that Oklahoma has more projects, more dams, more watersheds than any other state, but as a result we have more needs. We have been so successful because of the partnership of the property owners, the local conservation districts, and certainly not just NRCS but especially the Oklahoma Conservation Commission," Askins said. "For those of you who live in this world everyday, it may be hard to understand that there are elected officials who really don't understand why we need to have the cost share programs and other dollars that go to the Conservation Commission. It is important and you should know that we have great leadership in this organization not just from the board of Commissioners but from the staff who come to the state Capitol to make sure that elected officials who live in other parts of the state or maybe who live in urban areas, that they understand the need for us to contribute state dollars as well to these projects," she said.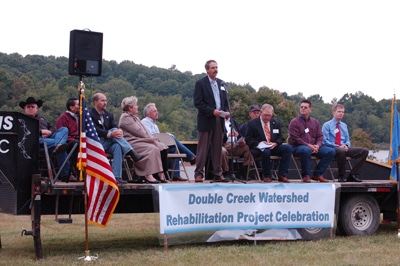 The six Double Creek Watershed Dams were built between 1954 and 1955 for flood control and they provide protection for 3,800 acres of land, U. S. Highway 75 and the town of Ramona. The original dams were constructed with a 50-year life span and due to age and condition of the dams, and development downstream it was necessary to rehabilitate the dams to bring them up to current dam safety standards and extend their life for another 100 years. The Caney Valley Conservation District is the sponsor for the watershed project and the USDA Natural Resources Conservation Service assisted in planning, design, and construction of the dams in the 1950s and in the rehabilitation of the dams, which occurred between 2004 and 2009