Don Bartolina's passion for conservation runs several decades deep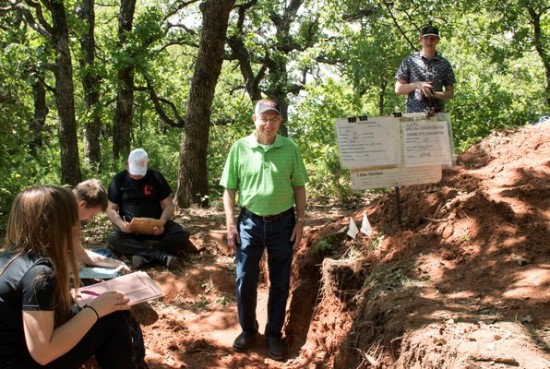 Would you like to see a genuine smile, one that originates from the heart?
Would you like to see what it looks like to invest your life in others and in conservation?
Just take a moment and watch Don Bartolina get into the lead car of a 250 car-bus-truck procession bound for the site of the National Land & Range Judging Contest. Behind him are nearly 700 4-H and FFA students and over 200 coaches from over 34 states. He doesn't know them all by name, but he's proud of every one of them; that's the reason for the smile.
Over the last 60 years, Bartolina has served with the Natural Resources Conservation Service and the Oklahoma Association of Conservation Districts. For close to 17 years of that span, he's worked as the District Manager for the Oklahoma County Conservation District. This month, the 85-year-old Bartolina retires.
In an interview for the Oklahoma Conservation Heritage Oral History Project, he was asked how he would like his career to be remembered. The answer was short and from the same place as the grin: "He made a difference and enjoyed it."
From the start…
Bartolina's mother's parents came from France and his father's parents from Italy.
"They didn't know each other but they took the same route to come here (Oklahoma)," he said. "They came from Ellis Island to southeast Kansas to work in that coalfield. Then they moved to the Henryetta area in Okmulgee County to work in the coalfield there. My parents were born there."
His grandfather, on his mother's side, was killed in the coal mines as the result of a rockslide.
Besides the coal mines, he had family who owned a grocery store and did a little farming as well. His father worked at each of the latter two.
Bartolina was born and raised in the small community of Coalton and graduated from high school at nearby Schulter.
"I tell people that I graduated in the top 10 of my class," he says, grins, and continues, "but I don't tell them that there were only 12 people in my class."
When asked about his earliest conservation memory, Bartolina rewinds to the early 1950s.
"When I was in 4H in the early 1950s, the feedstore in Okmulgee offered a bag of fertilizer to use for us 4H kids," he said. "I took it home and my dad said, 'We've been using manure for years.' I said, 'Yeah, but this is kind of something new.' So, we took a little plot in our cornfield and used that fertilizer and saw the difference it made. How green the corn was and better. We started using a little bit of fertilizer."
Bartolina would go on to earn a bachelor's degree in 1959 and master's degree in 1972, both in Agronomy, both from Oklahoma State University.
Having married his high school sweetheart Darlene in 1958, life took them as far away as Montana for a short while, but in 1961 they returned to Oklahoma where Bartolina started his career with the Soil Conservation Service in Watonga, as a soil scientist. He spent a couple of years in Watonga working on the soil survey, then transferred to Chandler to help with that soil survey, and then it was on to Wewoka in Seminole County.
"I worked on that soil survey and I was the party chief, even though it was a party of one," he said. After three to four years it was on to Tulsa to start that soil survey.
Then came an opening in Oklahoma City working with the state planning agency; a federal employee assigned to a state agency. In 1977 he became the District Conservationist for Oklahoma County, and served in that position for 24 years until his first retirement. During this time, he assisted a multitude of landowners in improving their land by installing several thousand conservation practices. He was also active in the State Soil and Water Conservation Society and served on the National Board for nine years.
However, even though the job titles changed, there's been at least one aspect of Bartolina's conservation career that has been a part of him for about six decades – the National Land & Range Judging Contest.
Opportunities everywhere
Summing up Bartolina's perspective of his career would go something like there's a lot of soil, and a lot people so that equals a lot of opportunities.
Bartolina became involved with the contest when he started working for NRCS as a soil scientist in 1961. By the mid-1980s, he was contest coordinator, working diligently behind the scenes months before the pits were ever dug.
"The contest was part of my NRCS training," he said. "When you're out there and the kids are asking questions, that's when you learn. It gives kids an appreciation for the land. When you think of all the state and local contests that lead up to this, the number of students and coaches involved, it's rewarding to know you've had some impact on their lives."
The national contest is comprised of three events held concurrently at the same secret location. In the land judging event, contestants enter several three to five-foot deep pits to evaluate the qualities of the soil and determine its potential for agricultural production. Range judging contestants rotate through roped off rangeland sites to identify plant species and determine the site's value for cattle production and quail habitat. Homesite evaluation challenges contestants to determine the value of a site for residential development.
Sure, it's true that COVID-19 placed the event on hold for two years, but weather doesn't. There have been days of beads of sweat, drops of rain, and pellets of sleet, and the contest continued.
To touch so many lives every year requires the close cooperation of several public and private partners.
"It's a labor of love," said Bartolina, who points toward about 200 volunteers that see the event through in quality fashion. "There's not another contest with this many people from so many places working for the same thing. I hope it continues and I hope new people can get involved and keep it going."
Don't take that to mean he's worked his last event. Phil Campbell, chairman of the Oklahoma Conservation Commission and a director for the Oklahoma County Conservation District, said, "He has to remain a part of this. We need him."
That goes back to Bartolina saying he wants to be remembered as someone who made a difference. That's the case whether you are talking about the National Land & Range Judging Contest or working with NRCS or the Oklahoma County Conservation District.
"We did an emergency project one year out by Jones, and we got it done quickly," Bartolina said. "Floodwaters were about to take out the road and we got in and rip-rapped and saved the road. A lady wrote a letter to a Congressman talking about the efficiency of government and what a quick and good job we did. Now that makes you proud when you can do something to help people, they appreciate it."
Bartolina says that after this retirement he plans to continue to spend time with his wife of 63 years, his four married children, 10 grandchildren and six great-grandchildren (to date) and continue to volunteer doing what he loves – serving the conservation community.