Oklahoma Master Irrigator Program is underway with more sessions planned
GOODWELL, Okla. – The Oklahoma Master Irrigator Program is not centered on math, however, what is learned through it can certainly add up to financial and conservation benefits for agricultural producers.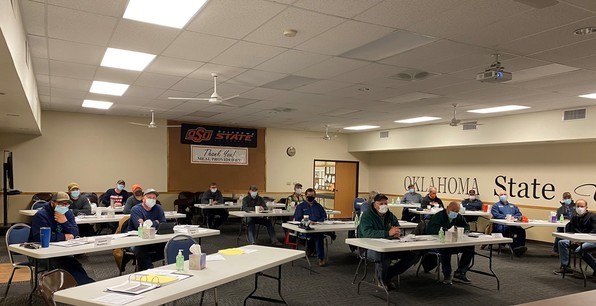 The Oklahoma Master Irrigator Program's goal is to generate improved water use efficiency and farm income through increased farmer adoption of advanced water management strategies and technologies.
Producers, crop consultants, farm managers, conservation professionals (e.g., Natural Resources Conservation Service and Conservation Districts), and county extension agents can attend the program. This session of the program is offered in the Oklahoma Panhandle. The program is also offered to adjacent areas of neighboring states. However, only participants from Oklahoma will be eligible for benefits and incentives. The first group of producers recently completed the training at the Oklahoma Panhandle Research and Extension Center in Goodwell.
The program is truly a team effort comprised of Oklahoma State University Extension, the Oklahoma Water Resources Center, Oklahoma Panhandle Ag Irrigators Association, Oklahoma Water Resources Board, Oklahoma Conservation Commission, and the Natural Resources Conservation Service. Dr. Kevin Wagner at the Oklahoma Water Resources Center, along with the Panhandle Ag Irrigators, have facilitated the formation of the program, but Wagner stressed, "This has truly been a team effort."
The idea of the Oklahoma Master Irrigator Program originated following the 2018 Ogallala Summit when Oklahoma State University, the Oklahoma Water Resources Board, the Oklahoma Department of Agriculture, Food and Forestry and OK Panhandle Irrigators learned of the Master Irrigator program developed by the North Plains Groundwater District, Texas, where it was first offered in 2016.
"Agriculture in the Oklahoma Panhandle is highly dependent on underground water resources (the Ogallala Aquifer) for irrigation due to uncertainty in rainfall to sustain stable yields," said Sumit Sharma, of Oklahoma State University's Department of Plant & Soil Sciences. "However, the water resources are limited, and irrigation capacities are declining. While technology and strategies are available to address improved water use efficiencies and water conservation, there exists a knowledge gap on effectively using these strategies and understanding their cost-to-benefit ratio."
Therefore, there is a need for an extension education program to educate the stakeholders about novel strategies and technologies available to improve water use efficiency and conservation. A second and important piece is to connect these "Master Irrigators" with the resources that they need to implement advanced water management.
To this end, the Oklahoma Conservation Commission and the Oklahoma Water Resources Board will be providing graduates (through the local districts) with funding for soil moisture sensors. Additionally, graduates will be provided access to Oklahoma State University's mobile irrigation lab to perform assessments of pumping and irrigation efficiency.
Finally, graduates will be eligible for additional ranking points to their Environmental Quality Incentives Program (EQIP) applications related to improving irrigation water use and efficiency.
While the current program is being held in the Panhandle and future sessions will also be held there, additional offerings are planned for the southwest region of the state and then other areas (e.g., Rush Springs aquifer, Enid region, and elsewhere).
Each training is comprised of a total of four sessions. Each session is about six hours and is offered once a week for four weeks. The first session was offered on January 19 while the fourth session was held Feb. 9.
"As stated previously, we plan future sessions in the Panhandle, developing a customized program for southwest Oklahoma, and in coming years, develop customized programs to meet the needs of other regions of the state," said Sharma, who is overseeing the delivery of this program.
The session covers aspects of irrigation from soil-water, crop-water relationship, irrigation scheduling using crop models and soil moisture sensors, management of limited water capacities, economics of irrigation, current crop prices, irrigation equipment, energy efficiency of irrigation pumps, as well as irrigation methods and equipment maintenance.
"The staff of the Oklahoma Panhandle Research and Extension Center has been very supportive for arranging logistics," Sharma said. "The funds for incentives are provided by the Oklahoma Conservation Commission, Oklahoma Water Resources Board, OSU, and USDA National Institute for Food and Agriculture. Dr. Wagner, Dr. Jason Warren, and Dr. Saleh Taghvaeian have provided vital guidance about the program. Additionally, the advisory panel which include producers, and crop consultants, NRCS, and OSU personnel have provided inputs to design the program curriculum."
Those interested in the program can go to https://extension.okstate.edu/programs/master-irrigator/index.html for more information or to register for the program. The number of participants is limited to 25 per training. The website provides contact information in case someone may have additional questions.