Deer Creek Conservation District and Friends of Hydro Library send 'Hydro Hugs' to soldiers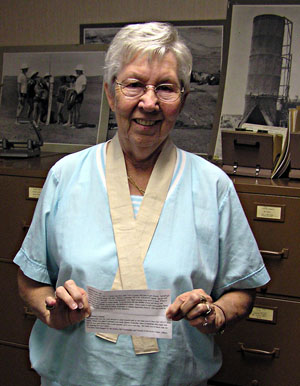 By Kristi Hill, Deer Creek Conservation District Information and Education Coordinator
Jane Cunningham of Hydro and the Friends of Hydro Library are doing what they can to make soldiers' days in the desert a little cooler. She and other volunteers cut, sew and assemble what they call "hugs" and send them over to be distributed to troops.
The "hugs" are neck wraps filled with hydrating crystals, which are soaked in water, then wrapped around the neck or head to help the wearer stay cool. They can also be refrigerated for an extra chill. Deer Creek Conservation District in Weatherford sells the crystals and donated some for the project.
For Cunningham, the project hits closer to home. She has a granddaughter currently serving in Iraq. She called and asked her grandmother to send some of the neck wraps.
"We love knowing we did something to make them feel better," Cunningham said. "It's just one small thing we can do to help."
Each "hug" is sent with directions for use and a brief note from the volunteers. The message reads: "We appreciate you for your service to your country and so we want you to have this 'hug' from home. When you place it around your neck, please remember there is someone who made this just for you and wished they could actually give you a real hug. We want you to know that we are praying for your safety."
The group also makes helmet liners for the winter months and sends items such as toys and blankets for children in orphanages.
They have sent close to 100 so far this year. Cunningham said the group would love to make and send more, but needs more donations: of money, of fabric, and of time. Volunteers and those wanting to help can email the Hydro Library at hydrolibrary@suddenlinkmail.net or call 405-663-2009.