DamWatch Helps Protect Oklahomans During Flooding

Flood Control Dams save $85 million annually
Knowing that flooding always follows drought, especially in Oklahoma, for the past two years the USDA Natural Resources Conservation Service, Oklahoma Conservation Commission and local conservation districts have worked to put in place the nation's most advanced flood warning system —DamWatch. The agencies joined together to initiate the DamWatch system to help manage the 2,107 flood retarding dams in Oklahoma built through the federal Small Watershed Upstream Flood Control Program.
The agencies partnered with US Engineering Solutions, Corp., to implement its DamWatch application that uses web-based software to access real-time data sources and analyze the data related to each of Oklahoma's 2,107 watershed dams. A threshold rainfall amount is computed for each dam based on its capacity to store storm runoff. When the threshold is exceeded for specific dams, DamWatch automatically sends an alert to notify key personnel of a potentially destructive event so they can inspect the dam and, if appropriate, initiate an emergency action plan. DamWatch team members receive an automatically-generated priority list of dams requiring monitoring, inspection and possible operational actions. Those actions might range from monitoring spillway flows and taking protective measures to prevent erosion of the spillway, to notifying law enforcement and local emergency agencies of a possible need for road closure or evacuation. Just as important is terminating an alert after a dam has been inspected and concerns noted. This allows staff to concentrate efforts and resources on other dams.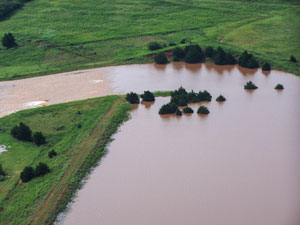 "Having the DamWatch system in place and operating is proving to be an efficient and effective way to monitor the state's 2,107 watershed dams during storm and flooding events," said Mike Thralls, executive director of the Oklahoma Conservation Commission. "It makes it possible for us to have the information we need and to communicate rapidly to take the appropriate actions to help protect people and property during dramatic weather events," Thralls said.
During that weekend, the 2,107 dams provided more than $11 million in benefits in avoided damages to roads, bridges and other property, according to the USDA Natural Resources Conservation Service. The existing dams provide the state with an average of $85 million in benefits annually.
"Oklahoma's weather patterns continue to demonstrate the need to prepare for both drought and floods. Implementing no-till farming and other conservation practices can help reduce the impact of drought," Thralls said. "And completing and maintaining Oklahoma's infrastructure of flood control dams can reduce the effects of excessive rainfall and flooding," Thralls said. Establishing a recurring source of funding in the amount of $4 million would allow conservation districts to adequately maintain the existing 2,107 dams, according to Thralls.
If another 331 dams that are planned but not built were in place during that time period, another $2.79 million in benefits could have been provided. The estimated construction cost of a new dam in Oklahoma is approximately $1.5 million. The estimated total cost to construct all 331 dams that have been planned is $662 million.  Once these dams were constructed they would provide together an additional $913 in benefits each year or an average of $105,000 per dam annually. In addition to increased flood control, the construction would also create an estimated 35 jobs (federal and non-federal) per dam.
Along with a need for funding construction of new dams, a steady source of funding is needed for the rehabilitation of dams that have reached the end of their design life, and for remedial repairs to dams that have been damaged by the elements.
There are approximately 200 dams in Oklahoma that are in need of rehabilitation to be upgraded to meet high hazard criteria, 18 of which were re-classified as high-hazard in the past year alone. To date, NRCS in Oklahoma has received applications for federal assistance to rehabilitate 24 of those 200 high-hazard dams.  With an average cost per structure of $2 million, it would take an estimated $48 million to rehabilitate the 24 high-hazard dams. But they would provide a total of $65 million in benefits or an estimated average $105,000 each in annual benefits and the construction would also create an estimated 47 jobs per dam rehabilitated.