DamWatch at GIS Day at the Capitol 2012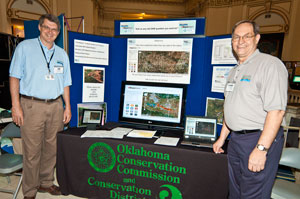 For the first time, OCC had a display and presentation about the new DamWatch program during GIS Day at the Capitol on March 14, 2012. OCC employees Jim Henley and Larry Caldwell staffed the display and presented information about the DamWatch program. Using a laptop computer and large monitor, they demonstrated components of the system for legislators and other visitors.
DamWatch is a patented, Internet-based, dam and levee monitoring software system developed by US Engineering, Inc. The DamWatch system collects data from sources such as the National Weather Service, National Oceanic and Atmospheric Administration, USDA Natural Resources Conservation Service and the U.S. Geological Survey to compare against established thresholds and alert users as specified. Alerts and notifications are distributed electronically (email, sms messaging, fax, etc.) according to client-defined specifications or emergency action plan protocol.
The Oklahoma DamWatch program is collaboration among the USDA Natural Resources Conservation Service, Oklahoma Conservation Commission (OCC) and many of the state's local conservation districts. Of Oklahoma's 77 counties, there are flood control dams in 61. The primary users of DamWatch are the 70 conservation districts in which there are flood control dams. They are responsible for dam safety and must closely monitor any high-hazard dams in their district.
The DamWatch Internet-based user interface includes zoomable maps that can be overlaid with geographic or political boundaries, watersheds, inundation zones or any other user-defined information layer. Dynamic data sets such as real-time meteorological, hydrological or seismological overlays can also be displayed.
"DamWatch is a powerful tool during massive rainfall and potential flood events," said Robert Toole, OCC's Conservation Programs division director. Toole's division manages OCC's participation in the Oklahoma DamWatch partnership. "The system allows us to proactively monitor, in real-time, dam infrastructure to better protect against hazardous, costly and potentially catastrophic events," Toole said.