Customers Clear Shelves at Cimarron County Conservation District Farmers Market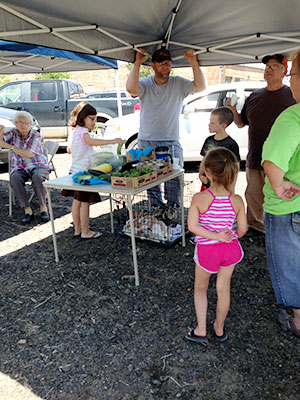 For some businesses, moving mountains might seem easier than moving products. That's not the case for the Cimarron County Conservation District (CCCD) farmers market. The conservation district has been so successful at organizing the annual event and attracting customers, vendors often sell out of produce and homemade goods well before closing time.
Keeping It Local
Open every Friday from July 26 through September 13 from 2 p.m.-6 p.m. for the 2013 season, vendors came from Oklahoma, Texas, Kansas, Colorado, and New Mexico to sell their goods in Oklahoma's western most county. It's been a great opportunity for local growers and bakers to sell their wares, and for CCCD to build personal relationships with the communities they serve.
Sweet Deals
Iris Imler, CCCD Programs Coordinator, notes that the extra income generated by the market has made a huge impact on people's lives. One vendor called weekly during the season to express her appreciation for the market, which allowed her to stay up on her bills during a period of economic hardship.
Another vendor wrote a thank you note because the extra money she was making from sales at the market made it easier for her to afford medical and travel expenses related to her cancer treatments.
Going Strong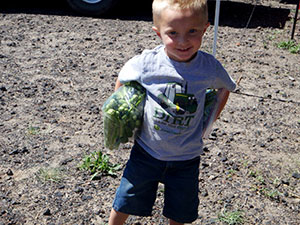 Though the market is going strong, it was no easy task getting it off the ground back in 2012. Their biggest challenge was generating the startup funding needed to purchase advertisement space, reusable shopping bags with the district logo, and other administrative supplies. After a lot of searching and several dead ends, CCCD was finally able to fund the project with a $1,000 grant from the Oklahoma Association of Conservation Districts (OACD) and sponsorships from The First State Bank of Keyes and the Cimarron County Chamber of Commerce.
With the right funding and a new location behind the county courthouse, CCCD is ready and raring to go for 2014.
For more details on what it took to get the farmers market started, read Iris' full report here.