Cotton County Conservation District Burns Mortgage
Cotton County Conservation District held a reception on Dec. 18 to commemorate the burning of the mortgage on the district office building. The district made the final payment on Dec. 11.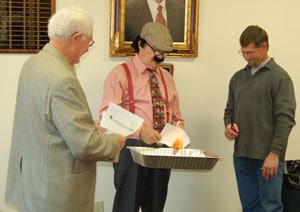 Originally, after the district formed on Nov. 22, 1948, the district office was in the courthouse in downtown Walters, then moved into an office building next door. When the Americans with Disabilities Act made it imperative the government offices be accessible for people with disabilities, and the building landlord would not make the needed modifications, the district and USDA offices began to look for a new location.
Since April 13, 1992, the district had owned a 160-acre farm west of town that it used as a demonstration farm and also generated locally-earned funds farming wheat and hay. Upon reaching a lease/purchase agreement with Welch State Bank, the district broke ground for the new office building on the farm property on Dec. 31, 2002, and moved into it in July 2003.
The district provided some of the land on the farm to the city of Walters to use for a building for Department of Corrections. The city ran utility lines to the property and built a parking lot for the offices. The agreement states that if the city ever vacates the property, it will revert back to the district.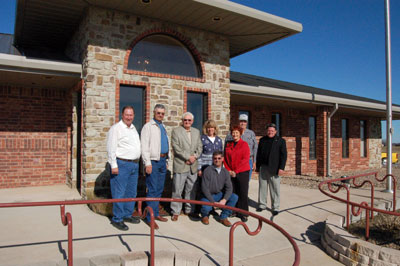 Using locally-earned funds, the district paid off the building three and a half years early. Working with the city of Walters, Oklahoma Department of Environmental Quality (DEQ) and the Association of South Central Oklahoma Governments (ASCOG), the district operated a service of pumping out lagoons and applying the solid waste to scarred land in need of nutrients. The district considers this a win/win situation because the area cities and towns get their lagoons pumped out and farmers get the nutrient fertilizer. The district also sold a parcel of the land to the Department of Transportation to help pay off the mortgage.
The office building is constructed of rock and brick and uses a geo-thermal heating and cooling system. In addition to NRCS, the USDA Farm Services Agency office for Cotton County is located in the building. In December 2003 the conference room was named in honor of Jack Hudman, a district board member since 1961. The building's safe room is incorporated into a break area for office staff. A Mezonet site is located on the property.
At the reception Hudman burned the mortgage, accompanied by Bobby White, district manager, and "banker E.Z. Money, of the Concrete Heart Bank" portrayed by Stan Rice (in disguise), husband of Fredia Rice, district secretary.