Containerized Gardens Get Spotlight at Deer Creek Conservation District Workshop
Drawing a crowd of over 30, the Deer Creek Conservation District containerized garden workshop on February 22, 2014 provided participants with the resources and know-how to do some big-time gardening in small spaces.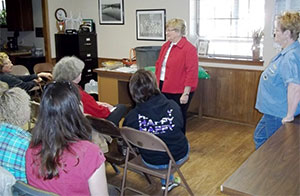 Why Containers
There are a number of reasons to garden in containers, chief among them is space. Planting in terracotta pots, buckets, or even emptied food jars can make any space, no matter the size, a living produce pantry or eye-popping floral display. Other reasons to garden in containers include keeping soil-bound pests at bay, growing geographically displaced plants, or lower input costs as compared to yard gardening.
Garden Master
The workshop was led by Weatherford Master Gardener Pat Sturm. Using an old plastic tub, Sturm taught the basic principles of container gardening and illustrated its versatility. By putting a drainage hole in the bottom, you can turn nearly any container into a lush plant habitat.
After the workshop wrapped up, participants were given recycled mineral tubs to be used as containers and had the opportunity to purchase bulk vegetable seeds, seed potatoes, onion sets, and onion plants. Proceeds of seed sales go to supporting the district in future outreach projects and workshops.
If you have a container garden you'd like to show off, share a photo with us on Twitter or Facebook!