Conservation Program helps landowners recover from drought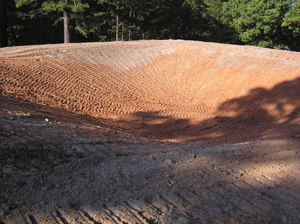 The Oklahoma Conservation Commission has announced Program Year 13 of the state's Locally-Led Conservation Cost-Share Program. The agency approved guidelines for the latest program at its Sept. 1 meeting. The program began in 1997 with the goal of reducing soil erosion and improving water quality by providing financial assistance to landowners for applying soil and water conservation practices. A few changes were made with the goal of going further to help landowners recover from the effects of the exceptional drought this year.
One change is that the program is being opened up earlier than most years. The Cost-Share Program overlaps years because it is designed to extend through two growing seasons to allow ample opportunity, under normal conditions, to install the conservation practices. In past years the program has opened at different times of the year from October to February, and the run for 16-24 months for completion of the installation of the practices. Only once before has it begun in September and only once has it begun earlier. The first year of the Cost-Share Program, 1997, it began in August, also a year of exceptional drought.
"With the losses the state's agricultural producers have endured this year, it's important we help them recover and the conservation cost-share program will be of great assistance," said Gov. Mary Fallin. "I appreciate the Commission expediting these funds more quickly than normal to help producers prepare for the next rain event," she added.
"This is a great time to expand our water holding capacity on farms for when it does rain," said Jim Reese, state Sec. of Agriculture and Commissioner of the Oklahoma Department of Agriculture, Food and Forestry.
"We want to open up this year's program as soon as possible so that local conservation districts can make it available to help landowners, farmers and ranchers, who have been impacted by the severity of the drought," said Mike Thralls, Conservation Commission executive director.
Another change that might be of help during dry weather is allowing the installation of a pipeline to move water from a supply source to a point of use for livestock. Previously, the installation of pipelines was only covered in the creation of a new watering facility. Now as a stand-alone practice, a pipeline can be installed in an existing watering system. This change is intended to help rotational grazing operations by providing additional locations to water livestock.
Funding for Program Year 13 in the amount of $1,150,527 is made up of $739,391 appropriated for that purpose by the state Legislature for the fiscal year 2012 along with $411,136 in funds not spent from previous program years.
Practices in the Conservation Cost-Share Program vary across the state according to priorities set by the local conservation district board of directors. Some of those available that also provide benefits during dry weather include constructing ponds, installing water troughs or tanks and drilling new wells.
Practices that help reduce soil erosion during wetter periods are also included in the Conservation Cost-Share Program. Those practices are terraces, grassed waterways, diversions, critical area planting and grade stabilization structures. Additional practices available are brush management including removal of eastern redcedar, fencing, pasture and hay planting, range planting, nutrient management and pest management.