Conservation Legend: Mike Kastl
Oklahoma's first and only Abandoned Mine Land (AML) Program director, Mike Kastl, has decided to shelve his steel-toed boots and retire. Mike began working with the Oklahoma Conservation Commission in 1975 as a planning assistant and later became the agency's assistant director in 1978. He became AML director in 1982. His incredible 39 years of service to the state of Oklahoma and the Conservation Commission is the most of any known employee. Wow!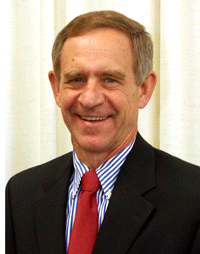 In the late 1970's, Mike played a key role in shaping the national Abandoned Mine Land Program with the US Department of Interior Office of Surface Mining (OSM) Regulation and Enforcement and was also instrumental in the formation of the National Association of AML Programs (NAAMLP). In the 1980s, Mike served as both vice president and president of that organization and received the NAAMLP Lifetime Achievement Award in 2009 for his leadership and commitment to the nation's reclamation program.
Mike worked with other AML leaders to develop training courses for state and federal reclamation staff and has imparted his vast knowledge and experience to hundreds of students from several state and tribal AML programs. He was recognized by OSM in 1997 for his role in developing the national training program.
Mike leaves behind some big boots to fill. He has set the bar very high. It will be challenging to say the least, but we will strive to carry on the legacy he leaves us with. He blazed the trail through the jungle and leaves us with a paved highway to move forward.
Thanks Mike, and best wishes in your retirement years.