Conservation Legend: Ben Pollard
Off in the hallowed acres of conservation, over rugged no-till fields and sparkling streams, beyond reclaimed mine land and flood control structures as far as the eye can see, there stands a man who's had a hand in it all: Ben Pollard.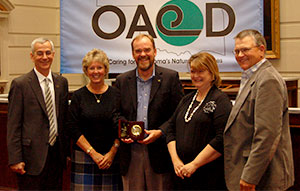 Pollard retired from the Oklahoma Conservation Commission (OCC) in January 2014 after over three decades of service. In that time, he was an essential member of the close-knit fabric of conservationists across the state. At his retirement reception, Mike Thralls, OCC executive director, said "Ben has been integral to the causes of conserving, protecting, and restoring Oklahoma's natural resources."
But Pollard's involvement with conservation hasn't stopped with retirement. Rarely a week goes by that he doesn't send the Commission's communications team a news tip, and at Conservation Day at the Capitol this year, he received the Oklahoma Association of Conservation District Employees President's Award from OACDE president Christina Richard.
He received the award "For years of support and dedication to the Oklahoma Association of Conservation District Employees," Richard said. "A friend to all conservation district employees, he was a leader in helping establish the OACDE 20 years ago, and was always looking out for district employees."
Ben Pollard is a pillar of conservation in Oklahoma and was instrumental in laying the modern foundation on which this agency currently stands. He is truly a Conservation Legend.
We miss ya, Ben.