Conservation Districts & Commission Celebrate Earth Day 2014
Celebrate Earth Day across Oklahoma with us the week of April 22, 2014!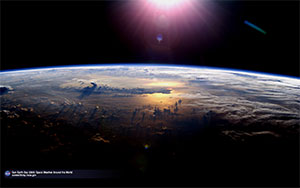 With no food or water, massive amounts of radiation, and meteors flying around at over 25,000 miles per hour, space is a very dangerous place. How nice it is, then, to have our cozy planet Earth to call home. Conserving and protecting our natural resources helps the Earth continue to provide us with healthy food, safe water, and clean air. Show our planet some love and learn what you can do to help at one of the many Earth Day events where conservation districts and the Oklahoma Conservation Commission can be found this week:

Oklahoma City University Earth Day 2014: Focus on Water
Tuesday, April 22
3 p.m. – 8 p.m.
OCU McDaniel University Center
Following an afternoon of exhibits by conservation-minded organizations from 3 p.m. – 6 p.m., a "Watering Oklahoma" panel featuring OCC's Shanon Phillips, water quality division director, and Cheryl Cheadle, state Blue Thumb program coordinator, will be available at 6 p.m. to answer questions on Oklahoma's 21st century water issues. The panel will be followed at 7:30 p.m. with a presentation by Oklahoma Mesonet's Al Sutherland titled "Drought Decisions and Mesonet Drought Tools."

Ponca City Earth Day Celebration
Tuesday, April 22
9 a.m. – 1 p.m.
Hutchins Auditorium, 5th and Overbrook, Ponca City, OK 74601
Contact: (580) 767-0430
Join Kay County Conservation District and the City of Ponca City for giveaways, earth care activity books, information on storm water runoff, and free use of the Community Share Shredder for the destruction of sensitive documents.

Backyard Gardening Program
Tuesday, April 22
6 p.m.
Harper County Fair Building
Contact: (580) 735-2418
Harper County Conservation District and OSU Extension invite the public to a free gardening workshop hosted by some serious gardening talent. Justin Barr of Ellis County Extension will provide information on various grass seeds and tips on gopher, mole, and other pest management. Darrel McBee of Harper County Extension will give instruction on building your own raised vegetable and flower beds. And for those with their eye on the county fair prize, Dana Bays of Woodward County Extension will present "How to Win a Blue Ribbon" with flowers and vegetables.

Mangum High School Tree Planting
Thursday, April 24
Mangum High School, Front Lawn
Contact: (580) 782-2787
In honor of Earth Day, has donated a redbud tree to the Mangum High School Honor Society. The tree's planting is open to the public and members of the Greer County Conservation District board have been invited to attend.

ScienceFest at the Oklahoma City Zoo
Thursday, April 24
8:30 a.m – 3 p.m.
Oklahoma City Zoo, 2000 Remington Place, Oklahoma City, OK 73110
Contact: (405) 425-0262
Oklahoma and East Canadian County Conservation Districts along with OCC welcome families to join them for a day of educational activities geared towards 4th and 5th graders. Numerous organizations from around the state will have exhibits and activities to enjoy. You can find our conservation crew near the pachyderms where you can explore the creepy crawlies wiggling around in your compost and learn about the journey of water from the creek to your cup.

Wyandotte Environmental Festival
Friday, April 25
9:30 a.m. – 3 p.m.
7th Annual Wyandotte Nation PowWow Grounds, E. of Wyandotte on Hwy 60
Contact: (918) 678-6341 or (918) 678-6335
Find the Ottawa County Conservation District exhibit before checking out all the other Earth Day displays and demonstrations. There will also be an e-waste collection to properly dispose of any unwanted electronics. Before you leave, be sure to congratulate the Wyandotte Nation Environmental Department on the one year anniversary of their recycling center.

Keep an eye out for another post after Earth Day with photos and stories from these and other celebrations!