Conservation District Employees gather information and ideas at statewide training
OKLAHOMA CITY — The same question generated two distinctly different answers.
The two individuals were asked to, "Describe the land where you are from in Oklahoma."
Bradley Hamilton leads the Pittsburg County Conservation District in southeastern Oklahoma and Anne York is from the Upper Washita Conservation District in Roger Mills County in far western Oklahoma. Hamilton and York were among those representing Oklahoma's 84 conservation districts during employee training held April 2-3 at the Wyndham Garden in Oklahoma City.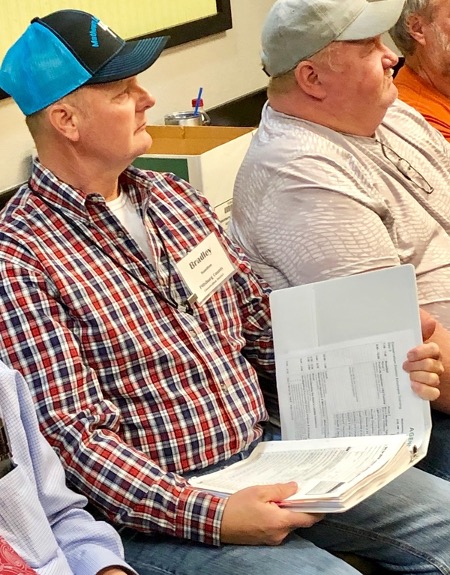 Hamilton chuckled, then replied, "It's a little bit of everything. We've got everything from the worst case scenario to the best case scenario. We've got good farm ground, we've got mountain ranges, we've got lots of rock. We've got the worst clay in the world, we've got the best sandy loam. We're very diverse."
York, also with a grin, said, "Most of it is plains. We do have a few hills, there's some elevation out there but most of it is pretty flat."
However, even though they come from totally different areas of the state, their answers to "What did this training provide you," were in harmony.
Each said the training allowed them to gather information from speakers and those of other districts that they could carry back home.
The training, made possible by the Oklahoma Conservation Commission (OCC), the Natural Resources Conservation Service (NRCS), the Oklahoma Association of Conservation Districts (OACD) and the OACD Employees, included topics such as Oklahoma's state funded locally-led conservation cost-share program, director elections and appointments, basic financial management, soil health and other education resources, surplus and sale of equipment and property, pesticide applicator Continuing Education Unit (CEU) Training and several other items.
"The two days of training and continuing education for Conservation District employees far exceeded my expectations," said Trey Lam, Executive Director of the Oklahoma Conservation Commission. "This was the most complete gathering of local district staff in anyone's memory. I heard from brand new employees and veteran staff with 40 years of experience who both learned something new. I was so impressed with the dedication of these public servants. Oklahoma's top 10 ranking in natural resource conservation depends on local boards and employees setting priorities and delivering programs. Oklahoma's Conservation Partnership has 80 years successes in solving environmental issues through the voluntary approach. The next 80 years are in great hands with our local district employees. "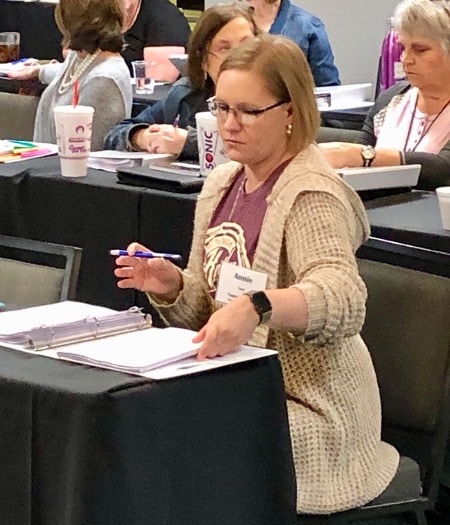 Again, the features of the conservation districts these employees are from are different, but in Oklahoma City, they came together to learn on common ground.
York, who has worked for her district for four years, has 174 watershed structures in her district, and 143 of those are nationally recognized. A watershed is an area of land that drains all the streams and rainfall to a common outlet. They have 11 high hazards. These are dams rated as "high hazard" due to the potential threat to human lives should one of them breach during a flooding event.
York said training topics such as records disposition were helpful because she has a lot of records/files.
She added, "Not only do we get a chance to meet the new people that have come, but we also get another district's perspective on things that work for them."
Hamilton, who has worked in his district for 24 years, has 19 flood control structures in his district. His district has a lot of conservation education, and they have equipment that they rent. They are active with the schools and the public with various projects.
Hamilton said the training provided in Oklahoma City reassures them they are doing things the right way.
He said, "I'm seeing more district employees than I've seen in years. We sit, we visit, we learn how they are doing things and we get new ideas and then take them back and maybe implement them in our county."
Looking back, it was during this month in 1937, that Oklahoma passed the Conservation District Act, giving citizens the opportunity to form their own conservation districts. The same Act created the agency known today as the Oklahoma Conservation Commission.

Conservation districts are legal subdivisions of state government, whose primary goal is to assist citizens in practicing wise use and management of the state's renewable natural resources, especially its soil and water. Conservation districts continue to assist farmers and ranchers as in the past, but today also assist a larger segment of the public including community planners, public health officials, developers and rural and urban citizens. Districts also provide a variety of education materials and opportunities for students, and some lease or provide equipment to local landowners.
The entire state is divided into conservation districts, usually, but not always, along county lines. A five-member board of directors guides each district, three of which are elected by area voters in Conservation District Director Elections and two are appointed by the OCC based on local board recommendations.
NRCS State Conservationist Gary O'Neill, said, "NRCS and Conservation District employees work side-by-side in providing assistance to Oklahoma farmers and ranchers. The more training each of our staffs receive the more efficient and better we are equipped to provide a high-level of customer service. This helps both NRCS and the Conservation Districts achieve our critically important conservation mission."
To learn more about the Oklahoma Conservation Commission, please go to https://conservation.ok.gov.