Conservation District Directors named as "Master Agronomists"
The "Master Agronomist" award was initiated at Oklahoma State University in 1947 as a means of recognizing individual farmers and ranchers in Oklahoma. In 1961 the award was revised with the inception of the Master Professional Agronomist.The names are often submitted by OSU Extension county educators or area specialists to Extension area agronomists who make the nominations for statewide consideration.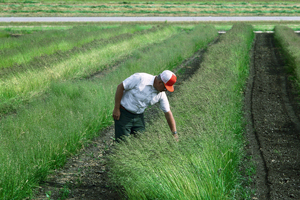 The recipients, usually nominated by OSU Extension county educators or area specialists, have actively participated in agronomic education efforts and have contributed valuable public service because of their unique efforts in the fields of soil conservation, range management, or crop production. In many cases, these individuals have provided land, equipment, time, and effort in helping OSU carry out research and demonstrations on their farms. They have hosted field tours, and in some cases served as speakers on educational programs. These individuals are very active and involved in agriculture, and are highly respected leaders in agriculture, community, and church. Many serve on local, state, and regional committees, boards, and councils. 
Among the roster of names since the 1961 revision are a number of current and former conservation district directors including the following:
Current Directors
2008 – Matt Gard, Major County Conservation District and Oklahoma Conservation Commission Area I Commissioner
2004 – Kenneth Rose, Cimarron County Conservation District
2002 – Scotty Herriman, Nowata County Conservation District
2001 – Jay Franklin, Craig County Conservation District
1999 – Trey Lam, Garvin Conservation District and Oklahoma Association of Conservation Districts President
1996 – Damon Doye, Comanche County Conservation District
1992 – Robert Ross, Muskogee County Conservation District
Former Directors
2010 – Richard Wuerflein, Garfield County Conservation District
1998 – Jess Lam, Garvin Conservation District
1981 – Newell Webb, North Fork of Red River Conservation District
1980 – George Carman, Pittsburg County Conservation District
1977 – Wayne Booth, Washita County Conservation District
1974 – Sam Holmberg, North Fork of Red River Conservation District
1971 – L.L. "Red" Males, Upper Washita Conservation District
On the roster of Master Professional Agronomists is Jim Enis, Latimer County Conservation District, recognized in 1998. Also on the list are James "Jim" Steigler, recently retired head of OSU's Plant and Soil Science Department, honored in 2008, and Edd Roberts, who was an OSU Extension soil scientist and one of the creators of the National Land and Range Judging Contest, honored in 1967.