Conservation Day at the Capitol 2013 Agenda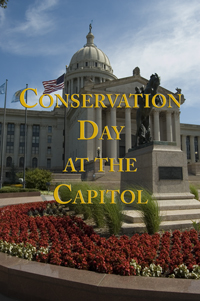 April 1, 2013, is Conservation Day at the Capitol. An awards ceremony will begin at 9:00 a.m. in the Chamber of the House of Representatives. Ample seating is available in the Gallery, accessible on the fifth floor on the west side of the Capitol Rotunda.
Lt. Gov. Todd Lamb and Sec. of Agriculture Jim Reese are among scheduled speakers.
The OACD Conservation Awards will be presented in the categories of Outstanding Conservation District, Outstanding District Director, and Outstanding Cooperator/Landowner. The awards are sponsored by the Oklahoma Association of Conservation Districts (OACD) and are cosponsored by Chesapeake Energy, the Samuel Roberts Noble Foundation and the Nature Conservancy of Oklahoma, respectively.
The OACD Partners in Excellence awards will be presented, along with the OACD Hall of Fame and President's awards. Excellence in Communication awards, co-sponsored by the Oklahoma Press Association, will also be presented.
The will be a signing ceremony for an agreement between the Samuel Roberts Noble Foundation and the Oklahoma Prescribed Burn Association to benefit prescribed burning efforts in the state for the purpose of reducing the incidence of wildfires and control invasive plant species.
A pickup truck donated by Chesapeake Energy will be presented to Garvin Conservation District, winner of a drawing at the recent annual OACD State Meeting.
Throughout the day, from 9:00 a.m. to 2:30 p.m., display booths will be exhibited in the Capitol Rotunda on the fourth floor. Exhibitors will include a number of the state's local conservation districts along with state and federal conservation agencies and related nonprofit organizations and companies. The newly-formed Oklahoma Prescribed Burn Association will also be among the exhibitors along with several of its local member associations.