Conservation community pitches in for tornado recovery
Workers from the Oklahoma Conservation Commission and conservation districts didn't hesitate to pitch in for cleanup and recovery efforts in the aftermath of devastating tornados that ravaged central Oklahoma on May 19-20.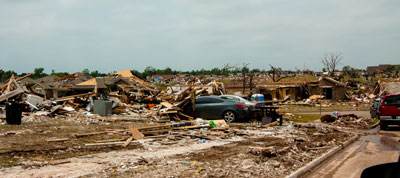 Following the EF5 tornado that killed 24 people and left more than 1,000 homes in ruin on Monday, May 20, a crew of watershed technicians with compact track loaders and attachments were at the disaster recovery staging Wednesday morning ready to help. They were assigned to work with the Oklahoma Department of Transportation (ODOT) in cleaning up residential and business structural debris and other materials in the city of Moore, the hardest hit area. OCC and conservation district workers involved in the Moore debris removal operation were the following:
Mike Thralls, (OCC executive director) Command Center coordinator
Robert Toole, (OCC Conservation Programs director) Command Center coordinator/crew chief/compact track loader (CTL) operator
Johnny Pelly, (OCC watershed technician) crew chief/CTL operator
George Moore, (OCC watershed technician) crew chief/CTL operator
Trent Drennan, Grady County Conservation District watershed aide) crew chief/CTL operator
Greg Lyons, (Garvin Conservation District watershed aide) CTL operator
Rusty Adams, (Okfuskee County Conservation District watershed aide) CTL operator
Yuel Farris, (Washita County Conservation District watershed aide) CTL operator
Tony Harrison, (Kiowa County Conservation District watershed aide) CTL operator
James (Sam) Fox, (Konawa Conservation District watershed aide) CTL operator
Charlie (Chuck) Pyka, (Murray County Conservation District watershed aide) CTL operator
Ben Pollard, (OCC assistant director) administration
Kelly Mockabee, (OCC Administrative Programs officer), finance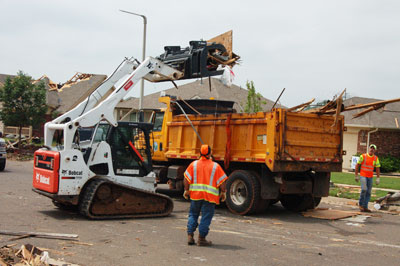 The goals of the crew, in order of priority, were to help clear debris from the Interstate 35 highway, major urban streets, minor urban streets and residential streets and to remove debris from habitable residential areas. The root grapple attachments for the CTLs that the technicians routinely use in operation and maintenance of upstream flood control structures proved especially effective in scooping up and removing the structural debris from the storm. Johnny Pelley, one of OCC's watershed technicians, spent his first day on the job picking up and burying horses from a local horse ranch that were killed in the tornado.
On Monday evening, following the Moore tornado, the Office of Geographic Information (OGI) was working with Charles Brady, Geographic Information Systems (GIS) coordinator for the city of Ardmore and Bearing Tree Land Surveying of Oklahoma City to acquire aerial photography of the tornado path. The state Incident Management Team (OK-IMT) notified Shellie Willoughby, OGI GIS Specialist, and Mike Sharp, State Geographic Information coordinator, early Tuesday morning that their services were needed in the Incident Command Post (ICP) at Fire Station No. 1 in Moore. Sharp and Willoughby gathered equipment and data before reporting to the ICP early Tuesday where they began generating maps of the unrecognizable disaster area to help guide first responders in their rescue efforts. Mid-day Wednesday, seeing the need for additional resources, OGI contacted Julie Parker, GIS coordinator for Chesapeake Energy, who provided on-site a 42″ plotter, multi-function printer/copier and supplies which were invaluable in providing the hundreds of maps and documents needed to support the disaster response.
On Friday, in addition to continuing to provide GIS support for the tornado response, the OGI began working with U.S. Secret Service agents, Oklahoma Highway Patrol and Oklahoma City Police providing GIS and GPS services regarding the visit by President Barrack Obama on Sunday. After 82 hours of on-site support, Sharp and Willoughby returned to their offices Sunday afternoon, May 26, following the deactivation of the OK-IMT at 3:30 PM. On Tuesday, May 28, OGI began providing mapping support to the OCC debris cleanup crew working in the Carney area which had been devastated by the May 19 tornado.
All of the OCC and district staff worked at their tasks from 6:00 in the morning until 8:00 at night —for some, much later — straight through the Memorial Day weekend. OCC and district staff involved in debris removal were relieved in Moore on Tuesday morning and replaced by contracting companies. Dennis Boney, OCC watershed technician, joined the OCC and district debris removal group as it moved to Carney in Lincoln County to continue assisting ODOT with removal of trees, brush and household and structural debris from the May 19 tornado in that area.