Conservation Commission Reorganizes for Fiscal Year 2013
Mike Rooker Reappointed; Mike Thralls Returns to Work
At the beginning of the July 2012 meeting of the Oklahoma Conservation Commission, Mike Rooker was sworn in to serve his second term representing Area II on the Commission. Gov. Mary Fallin reappointed Rooker in March and the state Senate confirmed the appointment in May.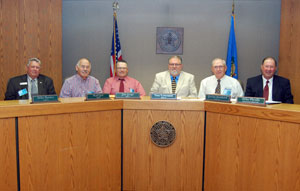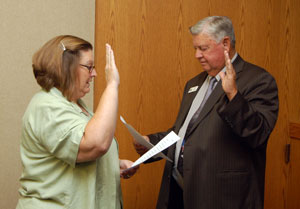 The Conservation Commission members assumed their new officers' positions for fiscal year 2013 at the meeting as well. Dan Lowrance, Area IV member, will serve as chair, with Jim Grego, Area V member, serving as vice chair and Karl Jett, Area I member, as secretary. George Stunkard continues to serve as Area III Commission member.
Mike Thralls, executive director, returned to work after recovering from surgery in time for the meeting. He underwent surgery in May for cancer affecting his spleen, pancreas and one kidney. He began returning to work on a part-time basis during the last week of June and attended the July 2, 2012, Commission meeting.