Conservation Commission is Keeping Oklahoma Beautiful!
Ten thousand trees were planted. Six thousand feet of improved streambank. Nine hundred tons of sediment were kept out of the water.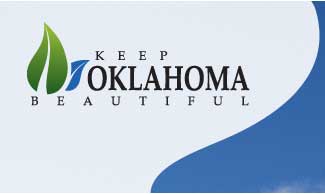 These actions and results have improved the water quality, aesthetic and recreational value of the Illinois River and earned the Oklahoma Conservation Commission an Environmental Excellence award from Keep Oklahoma Beautiful. The award was presented Tuesday, November 19, at the National Cowboy and Western Heritage Museum as Keep Oklahoma Beautiful recognized local, state, and tribal governments, as well as nonprofit and community groups for their efforts to protect Oklahoma's environment.
The Commission was recognized for its 2012 project to restore over 6,000 feet of eroding streambanks along the river and its tributaries. The project used natural channel design and planted trees in the riparian areas of 11 sites in the Illinois River watershed. Streambanks along both public and private property were restored and over a year later all sites are performing as expected. The estimated amount of sediment kept out of streams and the river as a result of the project is estimated at 900 tons.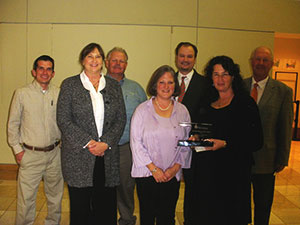 Collaborative Effort
The project was a collaborative effort between the Conservation Commission, Oklahoma State University, the City of Tahlequah, Oklahoma Scenic Rivers Commission, Oklahoma Water Resources Board, private landowners, and the Cherokee Nation Foundation.
"This was a great project to be involved with, as it not only helped improve the environment but also built lasting partnerships," said Gina Levesque, Commission Conservation Reserve Enhancement Project Coordinator. "We continue the work of public education on the importance of riparian areas and maintaining healthy streams."
Local and National Recognition
The project has been featured in Stormwater Magazine, OSU's SunUp program, and a series of videos describing natural channel design and stream ecology produced by Oklahoma State University.
"The project outcome has met or exceeded our expectations and, as a result of this project, we are working with other state agencies to do additional stream restoration work on the Illinois River," said Shanon Phillips, Commission Water Quality Division Director.
Funding for the project came through a Clean Water Act State Revolving Fund Principal Forgiveness Loan from the Oklahoma Water Resources Board as a result of the American Recovery and Reinvestment Act. Oklahoma State University's Department of Agriculture and Biological Engineering oversaw permitting and construction of the project. The designers and construction contractors were Stantec, Jennings Environmental, and North State Environmental.
"Construction took place in the summer of 2012 when we were having 100-plus degree days, but the heat didn't keep the public from stopping and watching the construction and talking to us to learn what we were doing," said Jeri Fleming, Commission Environmental Programs Manager. "It was a fun project to be involved with and I am looking forward to continuing to improve Oklahoma's eroding streambanks."