Conservation Commission Honors Outgoing Area IV Commissioner Dan Lowrance
Dan Lowrance was recognized for his service to the Oklahoma Conservation Commission (OCC) at a luncheon in Oklahoma City on December 4th. Dan resigned as Area IV Commissioner on October 31 after serving as commissioner since July 1, 2004. OCC Executive Director Mike Thralls presented Dan with commendations from Governor Mary Fallin and from OCC. Natural Resources Conservation Service (NRCS) State Conservationist Gary O'Neill and Oklahoma Association of Conservation Districts (OACD) Executive Director Clay Pope also made presentations honoring the contributions Dan has made to advancing conservation in Oklahoma.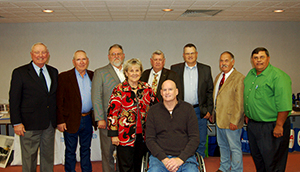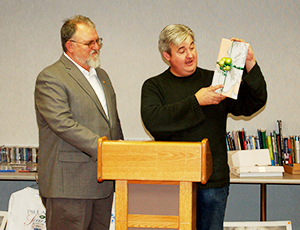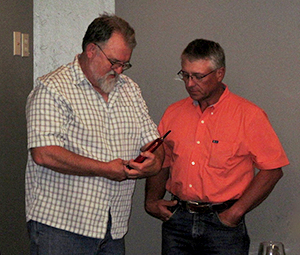 Dan's conservation service began in 1990 when he was appointed to the Stephens County Conservation District Board of Directors. Since then, Dan has been active in conservation at the local, state and national level. He served OACD as Area IV Director, Vice President and President. Dan has been a leader in the watershed program, previously serving as Chair of the National Watershed Coalition and a member of the National Association of Conservation Districts' (NACD) Water Resources Committee. Dan was also a graduate of the first Conservation Leadership Class. Governor Brad Henry appointed Dan to the Commission in 2004 and reappointed him to a second term in 2009
Dan's resignation from the Commission was prompted by his move to Stillwater where he is now the Executive Director of the Friends of Lake McMurtry. We at the Oklahoma Conservation Commission thank Dan for his years of dedicated service and wish him the very best in his new endeavor.