Conservation Commission Disappointed, but Hopeful on Bond Issue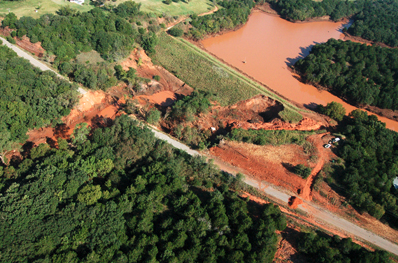 In light of Thursday's Supreme Court ruling voiding the state bond issue for conservation projects, Conservation Commission Executive Director Mike Thralls is urging the Legislature to reauthorize the bond this session. He said critical repairs to Oklahoma's conservation and flood control infrastructure are desperately needed.
"We at the Conservation Commission understand that Supreme Court was not asked to decide on the value of the projects included in the bonds, but on the constitutionality of the vehicle that carried them," Thralls said. "There is legislation currently in the Legislature to enact the conservation bond in its own bill," he added. "We are hopeful that the bill will be passed on its own merits for the public safety of the state of Oklahoma. And we are anxious for the resolution of the bond issue so we can begin to put those vital conservation measures on the ground," he said.
About $16 million of the funding from the bond would be used to repair and rehabilitate flood control dams across the state and would be matched by the same amount of federal dollars. Another $4 million would be used in a flood protection project in the Kingfisher area. Another $3 million would be used to repair dams in Caddo County that were devastated in the tropical storm Erin that swept inland and across Oklahoma in 2007.
"In 2007 Oklahoma experienced many severely damaging weather events, from the snow storms in the Panhandle, 'hurricane' Erin in the west and southwest, the ice storms in the east and the devastating flooding in the far northeast," Thralls said. "We are anxious see this bond in place so we can get to work rebuilding at least a portion of the infrastructure that has played such a vital role in the public safety of Oklahoma – protecting homes, businesses, roads and bridges and especially human lives," Thralls said.