Conservation Commission Commends U.S. Fish and Wildlife Service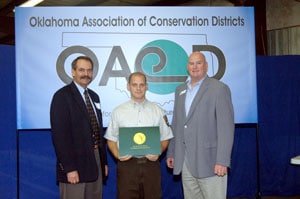 The Oklahoma Conservation Commission and Oklahoma Association of Conservation Districts jointly presented Conservation Commendations to two representatives of the U.S. Fish and Wildlife Service recently. The commendations were presented at two of the five OACD Area Meetings in October and November 2009.
At the Area I Meeting in Taloga on Oct. 29, USFWS employee Luke Bill accepted a Conservation Commendation from OCC and OACD "For supporting conservation districts and utilizing the conservation district delivery system to promote prescribed burning in Oklahoma to enhance and restore native ecosystems and for commitment to the conservation of natural resources in the State of Oklahoma." An agreement between the U.S. Fish and Wildlife Service (USFWS) and the Conservation Commission (OCC) to help four conservation districts facilitate prescribed burning on private lands provided such positive results that the two agencies have agreed to extend the project. The purpose of the project is to use controlled burning as a tool to restore ecosystems and landscapes to their historical biological diversity and productivity.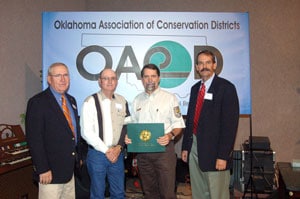 The original agreement for $50,000 for four conservation districts was approved by OCC in September 2008. USFWS provided $12,500 to OCC for each of the districts to help local prescribed burn associations with personnel, facilities, equipment, materials or administrative support to implement prescribed burns in their areas. Those districts were Dewey County, Ellis County, Upper Washita (Roger Mills County) and Woods County Conservation Districts. Recently USFWs and OCC signed a new agreement for $100,000 to expand the program.
The goal of the original agreement was to conduct prescribed burns on approximately 8,000 to 10,000 acres in western Oklahoma between August 2008 and August 2010. While the spring of 2009 did not offer optimum conditions for conducting burns, the four prescribed burn associations in those areas did accomplish 29 burns on 15,050 acres — exceeding the 10,000-acre goal of the two-year project.
At the Area III Meeting in Bartlesville on Nov. 10, Jontie Aldrich represented USFWS in accepting a commendation for working with conservation districts to promote re-establishment of native grasses in northeast Oklahoma. The U.S Fish and Wildlife Service's Partners for Wildlife Program provided a 10-foot grass drill to the Craig County Conservation District to help landowners plant native grasses for wildlife habitat restoration. The district charges a nominal maintenance fee to landowners to use the drill not only in Craig County, but including (but not limited to) Rogers, Ottawa, Delaware, Mayes and Nowata Counties. An estimated 8,000 to 10,000 acres will be restored to native grasses over the 10-year life of the agreement. The restoration of native grasslands will provide important breeding, migrating and wintering habitat for neo-tropical birds, wading birds, shorebirds and other grassland nesting bird and wildlife species.
The year 2009 saw the Blue Thumb Program add their 100th stream site to their monitoring list.