Conservation Commission Commended at Quality Oklahoma Team Day 2010
The Oklahoma Conservation Commission (OCC) received two Governor's Commendations during Quality Oklahoma Team Day 2010 at the state Capitol on May 6, 2010. One project also received the Celebrating Success Award for the best media campaign promoting Oklahoma's good work out of 75 projects reviewed.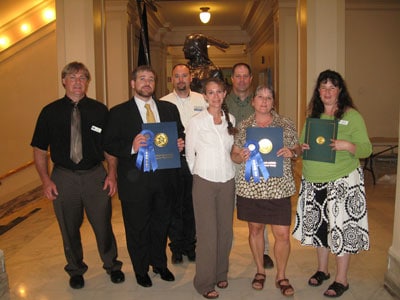 State agencies were asked to submit team projects showing how state personnel demonstrate initiative, collaboration and accomplishment to improve efficiency, reduce costs and improve services.
The two projects submitted by OCC's Water Quality Division included one that focused on an effort to empower water quality field personnel to answer landowner questions about the quality of the streams monitored on their land. The other project was a collaborative news media campaign with the Oklahoma Association of Conservation Districts (OACD) and the USDA Natural Resources Conservation Service (NRCS) to showcase the fact that there are many good streams across the state due to conservation efforts implemented through the partnership of state and federal agencies with local conservation districts and landowners. Both projects received Governor's Commendations and the media campaign project received the Celebrating Success Award.
In the "Media Campaign: Spotlighting Good Streams in Oklahoma" project, OCC and OACD collaborated on a series of news releases, news conferences, interviews and handouts to reverse a negative image of Oklahoma's waters. The media campaign resulted in support for federal and state funding for water quality efforts and the partnership between OCC, OACD and NRCS was strengthened. The U.S. Environmental Protection Agency published four of OCC's water quality success stories on its website and named Oklahoma as one of the top five states in the nation for documenting reductions in nonpoint source pollution. In addition to the Governor's Commendation, this project received the Celebrating Success Award for documenting a proactive effort to promote a positive message to change public perception, and involving other agencies.
The "Landowner Outreach: Know Your Stream Handouts" project came about as a result of field experiences of OCC's Water Quality staff. Frequently the water quality monitoring staff would be taking samples in streams when landowners would approach with questions about the status of the water as indicated by the tests performed on samples. The requested information was stored in databases and not readily available to answer landowners' questions spontaneously. To resolve this situation, Water Quality staff summarized data from 100 streams monitored in the state and compiled them into informational handout documents. Stream monitoring staff now carries this stream-specific information with them into the field to provide to landowners when asked. The project has resulted in benefits of improved relationships with landowners and the landowners' awareness of their streams. That, in turn, has made the job easier and more rewarding for water quality monitoring staff and improving their morale. This project received a Governor's Commendation as a Quality Oklahoma Team project.