Conservation Commission Awarded for Dam Safety
The Oklahoma Conservation Commission (OCC) received the West Regional Award of Merit during the 2014 Association of State Dam Safety Officials (ASDSO) for its operation and maintenance regime and dam upgrade record.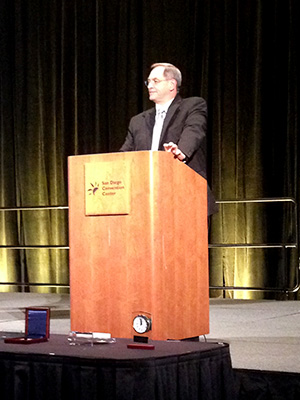 Larry Caldwell, OCC watershed specialist, was present in San Diego, CA on September 23, 2014 to accept the award on behalf of the agency. During his acceptance speech, he emphasized that dams and dam safety are important to all parts of the community, are can therefore be made relevant to a wide range of audiences. "Make it personal," he said. "No matter who [program staff] talk to—officials, county commissioners, organizations, private citizens—they always make it personal. They make sure people know what watershed they and their families live in, if they live downstream from an aging dam, or where they get their drinking water from."
OCC assists local conservation districts with the operation and maintenance of 2,107 dams built with assistance from Natural Resources Conservation Service (NRCS) Watershed Program. 249 of the dams are classified as high hazard, meaning their failure could pose a threat to human life. All of the dams provide flood control and 42 provide water supply and recreation for many communities.
OCC has placed a high priority on establishing an operation and maintenance program. Some highlights of the program include:
Full time staff attorney to work with conservation districts on land rights issues, legal questions, and implementation of upgrade projects
Full time staff of 10 technicians to work with conservation districts on operation and maintenance needs
Rigorous inspection program with technical support for conservation districts to assure each of the 2,107 dams are properly inspected each year
Detailed breach inundation studies for more than 190 high hazard dams
Emergency action plans for all 249 high hazard dams
Worked with NRCS to obtain LiDAR imagery of drainage areas for all 2,107 dams
Integrated all dams into early warning DamWatch® system
Integrated all dams into Okie One-Call excavation notification system
As Oklahoma's dam system ages beyond its 50 year design life, the next era of Oklahoma's watershed program begins—upgrading dams to last 100 more years. To date, 34 dams have been upgraded to meet current safety standards with 18 more in the planning and design phase. Congressman Frank Lucas and NRCS Chief Jason Weller recently announced over $26 million in dam upgrade funding.