Conservation Commission and NRCS Participates in the 18th Annual Inter-Tribal Environmental Council Conference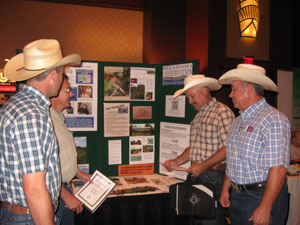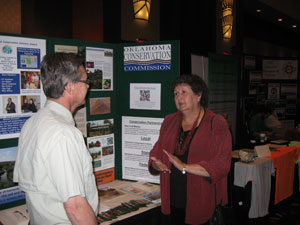 The Conservation Commission (OCC) and Natural Resources Conservation Service (NRCS) participated in the Inter-Tribal Environmental Council (ITEC) Annual Conference July 23 and July 24, 2013, in Catoosa, Oklahoma. The agencies partnered with the Oklahoma Tribal Conservation Advisory Council (OTCAC) to sponsor the two-day conference and display an informational booth.

The ITEC annual conference provided the opportunity for Tribal representatives, tribal environmental specialists, and other conservation professionals to obtain a firsthand view of various products, training materials and conservation opportunities. Such resources are necessary to enhance Tribal environmental land conservation programs that protect Tribal lands for future generations.
Dr. Carol Crouch, NRCS tribal liaison and district conservationist for the NRCS, presented on the success that NRCS and USDA agencies have had in developing strong partnership relations between the Tribes and tribal members of Oklahoma. Co-presenters were Doyle Bacon; Shane Sparks; Choctaw Nation ranch managers; and, Kathleen Welch, environmental director for the Wyandotte Tribe. Their presentations focused on conservation success stories on tribal lands and how to access USDA resources to help improve and preserve their lands. They also told the audience of other resources available to help build a variety of infrastructures through programs offered by USDA agencies.
"It is critical to USDA's mission to improve communication of USDA programs that are available through USDA agencies to Tribal leaders and tribal members," said Crouch. "Being selected to present at the ITEC conference provided the opportunity to increase awareness of all USDA programs and how Tribes and tribal members can access USDA programs and agencies."