Conservation Commission and Department of Transportation Collaborate on Project to Support U.S. Highway 270
The largest emergency project of its type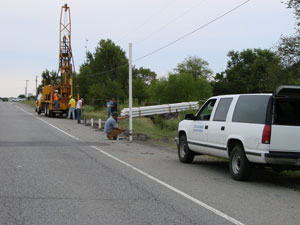 The Oklahoma Conservation Commission (OCC) and the Oklahoma Department of Transportation (ODOT) are cooperating on an emergency project on U.S. Highway 270 near Alderson in Pittsburg County. It is the largest amount of funding for a project in the history of OCC's emergency abandoned mine land reclamation program.

Voids under the highway caused by abandoned underground coal mining have been suddenly subsiding, causing portions of the highway to sink. This is not the first time this has happened – the two agencies cooperated on a similar, smaller project in 2006.
In the current project, ODOT is drilling holes from the surface in and alongside the roadway down into the voids. OCC has hired a contractor to pump concrete grout down into the holes to create pillars in the voids to support the highway. Initially pillars are pumped to create a box-shaped containment area, then more pillars are pumped to fill in the open, box-shaped area. The project is 1,080 feet of Highway 270 in the city of Alderson. OCC has a budget of $800,000 of federal funds from the Office of Surface Mining to complete the project. Completion is anticipated early in 2010.
"We really appreciate the partnership of ODOT in this project," said Mike Kastl, director of OCC's Abandoned Mine Land Reclamation Program (AML). "If ODOT were not drilling the holes, the cost of this project to the AML Program could easily run over a million dollars, maybe a million and a half," Kastl said.
The majority of emergency projects in Oklahoma have been in Pittsburg and Latimer Counties. Emergency projects occur when an abandoned mine site, usually an underground mine, suddenly poses a public safety hazard that needs to be addressed immediately. The Conservation Commission receives funding for both the AML emergency program and the regular reclamation program from the federal Office of Surface Mining. These funds come from a tax on current coal mining. According to Kastl the AML emergency program has been a successful and positive program in the state abating many serious public safety hazards. OCC is working to ensure that federal emergency funds continue to be available to the state to address serious mine-related emergencies, leaving regular program funds free to address the reclamation of known hazardous abandoned coal mining sites.