Communicating with New Producers Workshop
More than 70 people attended the Communicating with New Producers Workshop on March 20, 2012. Participants represented agencies and organizations that routinely provide technical, financial or other assistance to farmers, ranchers and other agricultural producers.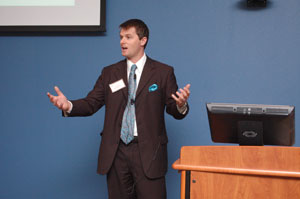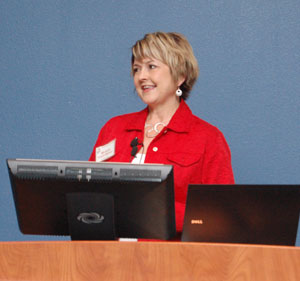 The Oklahoma Chapter of the Soil and Water Conservation Society hosted the all-day event at the Oklahoma City Campus of Oklahoma State University. The Samuel Roberts Noble Foundation provided support along with the Oklahoma Conservation Commission, Oklahoma Association of Conservation Districts, Oklahoma State Cooperative Extension Service, Kerr Center, the Sustainable Agriculture Research and Education organization, and USDA's Agricultural Research Service and Natural Resources Conservation Service. Stacy Hansen, SWCS member and Oklahoma Conservation Commission's Carbon Program director, moderated the workshop.
During the first morning session, speakers from the Noble Foundation, Kerr Center, Oklahoma Forestry Service, Oklahoma Department of Wildlife Conservation and Oklahoma Forestry Service provided Perspectives from the Field. The speakers addressed changes that entities who interact with farmers are seeing in the agricultural community.
In the second morning session, New Landowner Demographics, Larry Sanders, OSU Extension Service, and Charles Middleton, Great Plains Technology Center, drew on Oklahoma Census of Agriculture data. They explored the backgrounds, geographic origins, attitudes and learning styles of new agricultural producers.
During lunch, Blayne Arthur, Oklahoma Department of Agriculture, Food and Forestry, demonstrated the Ag Department's use of Social Media and Social Networking, primarily FaceBook and blogging.
Following lunch, Korey McMahon of McMahon Marketing address pros and cons of traditional and new outreach tools including news releases, direct mailings and flyers compared to FaceBook and Twitter. In his second session, McMahon went into more detail in the use of web-based marketing tools such as YouTube and blogging.
More information about the workshop is available in the Oklahoma SWCS newsletter at Healthy Land Clean Water For Life, April 2012.