Communicating with New Producers Workshop
Communicating with New Producers: How to Reach Them, How to Teach Them
Hosted by the Oklahoma Chapter of the Soil and Water Conservation Society, with support from the Oklahoma Conservation Commission, Samuel Roberts Noble Foundation and Sustainable Agriculture Research and Education.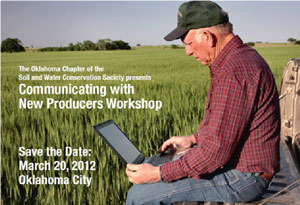 The face of agriculture is changing.
Agricultural educators, public agencies, consultants and extension agents are seeing new types of farmers and ranchers needing their services. Some of these producers have been successful in other walks of life and now want to try their hand at farming. Some are retirees looking to start a new life on the land. Others are simply seeking refuge from the pace of the city and desire a quieter rural lifestyle.
Without traditional agricultural backgrounds, these emerging producers face many challenges in learning the skills necessary to successfully manage a modern farming operation.As agents, educators and consultants serving the state's producers, we must change with the times and learn how to reach out to and serve the needs of these new farmers and ranchers.
The Oklahoma Chapter of the Soil and Water Conservation Society is hosting a one-day workshop in Oklahoma City, Communicating with New Producers: How to Reach Them, How to Teach Them to address these challenges. The workshop will explore the changing demographics of the Oklahoma farmer and the best methods for engaging those of
different age and interest groups. There will also be discussion of the pros and cons of both traditional outreach through flyers and press releases versus new tools such as websites, social media and alternative print products.
The fee for the workshop including lunch is $35 if registered by March 2 and $50 after March 2.
For information about the event, contact Stacy at 405-522-4739. For registration information contact Tracy at 580-224-6292. To register online, go to http://www.noble.org/swcs/.
Schedule
9 a.m. – Welcome and Program Overview
SESSION 1 – Exploring the Issue
9:15 a.m. – Perspectives From the Field
Representatives from private agricultural foundations and public agencies that interact with farmers will talk about trends and societal changes they are seeing in the agricultural community. Scheduled to speak are representatives from the Noble Foundation, the Kerr Center, the Natural Resources Conservation Service, the Oklahoma Department of Wildlife Conservation and Oklahoma Forestry Services.
11 a.m. – Break
11:15 a.m. – New Landowner Demographics
Drawing on data from the Oklahoma Census of Agriculture, we'll explore answers to the questions: Who are these new agricultural producers? Where are they coming from and what
are their backgrounds? How do attitudes and learning styles vary between the generations? OSU Extension Economist Damona Doye, Ph.D., will discuss economic issues and trends
in rural Oklahoma. Small Business Management Coordinator Charles Middleton from Great Plains Technology Center will speak about attitudes and learning style differences between
the generations.
12:15 p.m. – Lunch
A lunchtime session will explore the Oklahoma Department of Agriculture, Food and Forestry website and the department's use of social media to encourage public interest and interaction.
SESSION 2 – Adapting to Change
1 p.m. – Traditional Versus New Outreach
What is in your communication toolkit? What works and what needs changing? Through discussion and exercises, Korey McMahon of McMahon Marketing will cover the pros and
cons of both traditional and new outreach tools including press releases, direct mailings, flyers, outreach events, postcards, websites, venue choice and social media including
Facebook and Twitter.
1:45 p.m. – Break
2 p.m. – Interactive Social Media Workshop
Social media – Facebook, Twitter, YouTube, blogs and other web tools – are at the heart of how new generations exchange information. How are you using these resources to reach and begin conversations with agricultural clientele? How can you effectively use these tools? How do you structure and time communications to relate a consistent message and build your brand? Korey McMahon of McMahon Marketing will lead this interactive session and explore answers to these and other questions. Please bring a laptop, tablet or smartphone.
4 p.m. – Adjourn