Conservation Commission Partners with NRCS to Restore Wetlands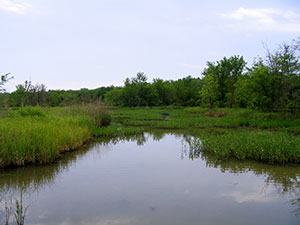 The Oklahoma Conservation Commission (OCC) partners with the Natural Resources Conservation Service (NRCS) and landowners to voluntarily return some of Oklahoma's farmland back to its natural state as a wetland. The NRCS reports that through its Wetlands Reserve Program (WRP), it has enrolled over 2.3 million acres nationally, and by 2010 had enrolled over 59,930 acres in Oklahoma. The impact this has on wildlife has been dramatic. The restored areas are seeing an increase in wintering waterfowl and reports of some interesting visitors such as roseate spoonbills and wood storks.
The Commission's role in this process is to provide contract administration for surveying sites and implementing construction projects. This partnership allows NRCS to utilize the State's contracting process, which can be done fairly quickly. The Commission is currently overseeing construction contracts on four WRP sites; two in Tillman County and two in Cotton County. The Commission is also facilitating land surveys on 19 additional sites in 11 counties for future wetland construction.
"Providing this service to NRCS ensures land is quickly restored as a wetland so it can begin serving its essential functions of providing habitat, and more importantly improving water quality to the nearby streams and rivers the wetlands serve," said Shanon Phillips, Water Quality Director for the Commission. Landowners interested in participating in this voluntary program should contact the NRCS or local Conservation District office in their county.