Commission and District Employees Receive Commendations for Moore Tornado Recovery Work
A number of Commission and District employees were given special recognition at the August Commission meeting in Oklahoma City for their tornado recovery work in the aftermath of the May 20 tornadoes.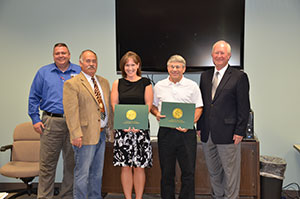 The Commission's Watershed Technicians and District Watershed Aides assisted in tornado debris cleanup and removal in Moore and Carney using the agency's tracked compact loaders that are normally used for watershed operation and maintenance. They worked with crews from the Oklahoma Department of Transportation, a working arrangement that developed after Commission Executive Director Mike Thralls contacted Secretary Reese and offered the services of our equipment and personnel. 
Secretary of Agriculture Jim Reese, Secretary of Transportation Gary Ridley, and Department of Public Safety Incident Commander Troy German presented the commendations. Secretary Reese and Secretary Ridley addressed the Commission and praised the work of the technicians and aides. 
Secretary Ridley noted how well the tracked compact loaders worked in tight quarters. He reflected he used to be in charge of equipment purchases for ODOT and had never realized how useful compact loaders could be in this setting. Ridley thanked the employees for the long hours they worked on the recovery effort. Secretary Reese noted that Johnny Pelley assisted Department of Agriculture personnel with the difficult task of disposing of horses killed in the Moore tornado. He too thanked the employees for their assistance with the debris removal.  
The Commission's Conservation Programs Director, Robert Toole, coordinated the work of the Watershed Technicians and Aides. "Working daylight to dusk, an atmosphere of mutual respect quickly developed," he said. The result was excellent communication, collaboration and coordination of personnel and equipment between OCC and ODOT. Mr. Toole was particularly proud of the teamwork displayed by our personnel and noted that, "Despite working in difficult conditions with a lot of foot and vehicle traffic in the work area, there were no accidents or injuries."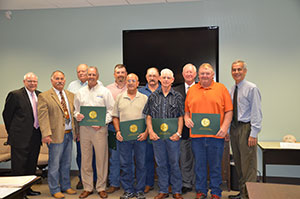 Troy German, incident commander for the Moore recovery effort, addressed the Commissioners about the work performed by Commission employees Mike Sharp and Shellie Willoughby. Sharp and Willoughby were requested to assist the Incident Command Team with mapping and Geographic Information System (GIS) support for first responders, law enforcement, and recovery teams. They were assigned to the incident command headquarters where they brought in computers and printers to produce a variety of needed maps. They also assisted the U.S. Secret Service with mapping the route for President Obama's visit to recovery sites.  
Mr. German told the Commission that the GIS services provided by Sharp and Willoughby were invaluable to the incident command team. "Everyone involved in incident command now recognizes the importance of having knowledgeable and capable GIS Specialists like Sharp and Willoughby producing the needed mapping information at disaster sites," he said. German indicated that he will be working with the Commission's Office of Geographic Information to look at ways to incorporate GIS services more permanently into the incident command system.
Receiving commendations for their work were:
Commission Watershed Technicians George Moore and Johnny Pelley
Conservation Programs Director, Robert W. Toole
Conservation District Watershed Aides Rusty Adams, Greg Lyons, Trent Drennan, and Yuel Farris
Commission Watershed Technician Dennis Boney and Watershed Aides Tony Harrison,Sam Fox, and Chuck Pyka (not present)
Commission GIS specialists Mike Sharp and Shellie Willoughby
The Commission also acknowledged board chairmen from three conservation districts who attended the meeting with their district's Watershed Aide: Joe Semtner from Konowa Conservation District, Keith Nessle from Okfuskee County Conservation District, and Frank Perry from Garvin County Conservation District.