Cleora Outdoor Classroom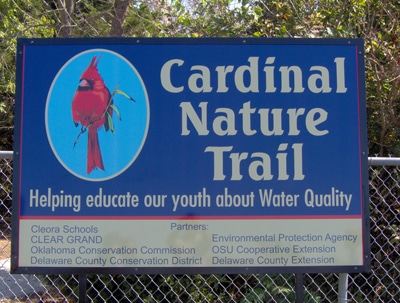 A dedication ceremony was held Nov. 7 for the Cleora Outdoor Classroom in Delaware County. Cleora Public School teaches kindergarten through eighth grade on 130 acres near Ketchum.
The facility includes the Cardinal Nature Trail, a covered pavilion, pond deck and rain garden. The project was funded through OCC's Grand Lake Watershed Implementation Project (CLEAR GRAND) with funds from the U.S. Environmental Protection Agency provided under the federal Clean Water Act. Other sponsors include the Delaware County Conservation District, OSU Cooperative Extension and Cleora Public School Board. Cleora School students were also present for the dedication ceremony.
"Steve Knox, a Cleora School teacher, definitely deserves credit for the vision and the labor that made this happen," said Kevin Gustavson, OCC's Grand Lake Project coordinator.
For more pictures of the site go to http://www.grandlakefun.com/cleargrand and click on "Cleora Outdoor Classroom."