Chuck Nuttle Retiring from AML Reclamation Program
After 20 plus years as an Abandoned Mine Land (AML) project inspector, Charles E. Nuttle, better known to all of us Chuck, plans to retire in early fall, 2013.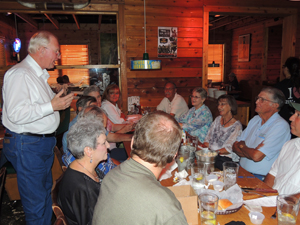 Born and raised on a farm near Pawnee, Oklahoma, Chuck raised registered Herefords and small grain crops. He graduated from Pawnee High School in 1955.
Chuck has spent his entire career in conservation, starting as a part-time employee with the Pawnee County Conservation District from 1956 to 1959 as a surveyor and grass planter. In April 1959 Chuck left the farm to become a Soil Conservation Service (SCS) employee working primarily in Bristow, Ada, Perry, and Claremore.  After providing technical assistance on 550 flood control dams and 11 Rural Abandoned Mine Land Program sites in 42 counties across the state for the SCS, he retired from the SCS in 1993.
Chuck's retirement was very short-lived. With his reputation as a hard-working, dedicated, professional, the Oklahoma Conservation Commission convinced him to come to work as an AML project inspector in 1993.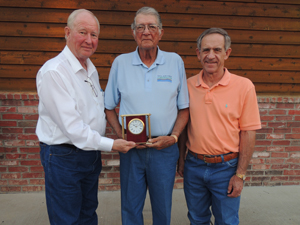 While working in the "conservation movement" in Oklahoma, Chuck also served his country with over 40 years in the Oklahoma National Guard. He rose to the rank of Infantry Battalion Command Seargent Major with responsibility for 750 soldiers. His training of soldiers for marksmanship using pistol, rifles, machine guns, and sniper system rifles with a high degree of proficiency was legendary within the ranks of the Oklahoma Guard.
Chuck resides in Claremore with his wife Nila Frances. On October 19, 2011, they celebrated their 50th wedding anniversary. Chuck and Nila have three daughters and one son. They have seven grandchildren and three great-grandchildren. Chuck and Nila have both served as deacons at the Claremore First Christian Church. They both enjoy traveling and have been to 38 states, Canada, Mexico, Cayman Islands, and Europe.
Chuck and Nila plan to move back to Perry, Oklahoma, to enjoy their grandchildren. And, no doubt, Chuck will try to get his golf scores down a little lower at the Perry Golf and Country Club.